JConcepts New Release – Ford Atlas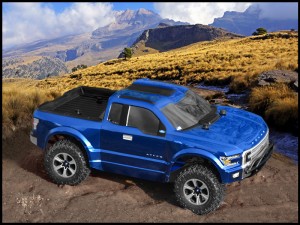 Sometimes a splash is necessary, and with the release of the Ford Atlas, JConcepts seems to have thrown a gigantic boulder into a swimming pool. The look of the Atlas is unmistakable contemporary Built Ford Tough, with bulging wheel arches, a drop-down beltline at the front doors, and some of the biggest snarling grille nostrils ever seen on an F-150.
The Atlas body is specifically built for the Traxxas Slash and Slash 4×4 chassis providing even more versatility to the wildly successful platforms. Fitting bumper to bumper, the body has all the possible detail of its 1:1 counterpart starting behind that outsized grille. Split headlight design with corner reveal turn signal points the Atlas in the right direction while edgy hood detail bulks around the fenders to provide plenty of clearance for an assortment of SCT tires.

The extra cab look is defined by the recessed windows and the roof has a unique center channel and extruded touches emulating the roof-carrying system shown on the prototype Atlas vehicle. The bed and fender area maintain a couple features that pique interest including sculpted out areas which look the part of the tie-downs on cargo walls and bed floor which are so commonplace in today's' pickup trucks.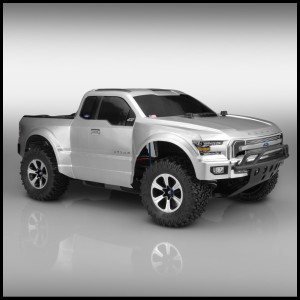 JConcepts has added the tailgate step feature on the rear which doubles as cargo cradle in the scale world. The tailgate itself is completely detailed dropping down to the bumper which has places identified for license plate and underneath, the exhaust tips. The Atlas includes a decal sheet for headlight, taillight with Ford and Atlas logos throughout. Decal trimmings include miscellaneous JConcepts logos, door handles, exhaust tips and running lights. Jump in head first with the Atlas by JConcepts.
Features:
· Officially licensed by Ford to JConcepts
· Scale inspired body, cab and window design
· 1:1 headlight and grill treatment with pronounced front bumper
· Front and rear fender flares for maximum clearance
· Extended cab with recessed windows
· Clear heavy-duty polycarbonate with protective film
· Window masks and detailed Ford Atlas decal sheet included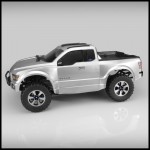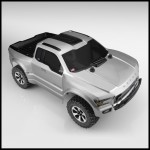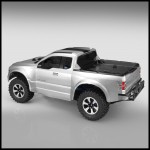 The wheels and tires shown are available separately through JConcepts.
· 3051-02 – Scorpios – green compound – (fits SCT 3.0″ x 2.2″ wheel)
· 3371B – Hustle – Slash front wheel – (black w/ silver face plating) – 2pc.
· 3372B – Hustle – Slash rear, Slash 4×4 F&R wheel – (black w/ silver face plating) – 2pc.
The Atlas body requires the PL Extended Body Mounts for a proper body fit.
· PRO6070-00: Traxxas Slash,
· PRO6087-00: Traxxas Slash 4×4
Ford Atlas – SCT Absolute Scaler body
Part# 0285
UPC Code – 845937012753
Retail price – $43.00
(Fits Slash and Slash 4×4)
Ford Oval and nameplates are registered trademarks owned and licensed by Ford Motor Company. Manufactured by JConcepts, Inc. www.ford.com
Revo®, JATO

, T-MAXX

, SLASH®, SLASH 4X4® etc. are trademarks and registered trademarks of Traxxas L.P.