JConcepts New Release – Finnisher Body for the T4.2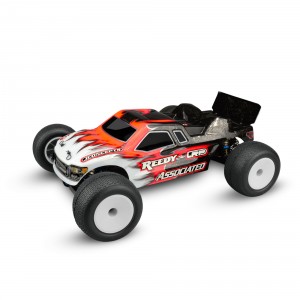 JConcepts kicks off the 2013 racing season with a Finnisher 1/10th truck body for the T4.2 racing truck. The slight cab forward, raked windshield and aggressive stance highlight a performance oriented core. A revised front hood scoop allows plenty of clearance for the redesigned front-end T4.2 geometry while smoothing out the front down force area. Front chin spoiler, headlight and grill protect the front-end from unwanted up-drafts during flight while the supplied decals stand-out like an 18 wheeler.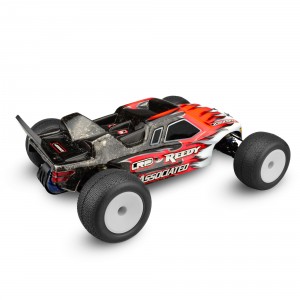 Like the ROAR National Champion Hi-Flow SCT body, the T4.2 body has built-in air escape passages which allow the customer to fine-tune the body for maximum outdoor performance. The new body includes the high performance gurney spoiler which increases rear grip and balances the handling characteristics of the aggressively styled body. The Finnisher for the T4.2 is class leading straight out of the package. 1/10th racing is back, JConcepts style.
Finnisher T4.2 body video product release
Features:
· Original – JConcepts Finnisher design
· Blended wing / body design
· Includes additional separate gurney spoiler with mounting hardware
· Clear polycarbonate with protective film
· Window masks and Finnisher decal sheet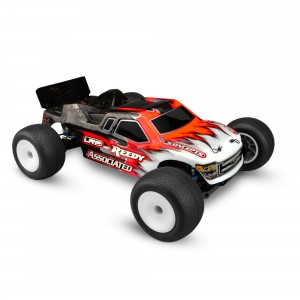 Illuzion – T4.2 Finnisher body
Part # – 0252
UPC Code – 845937009067
Retail price – $30.00
(Fits – Team Associated T4.2 truck)
Replacement gurney spoiler:
Illuzion – T4.1 / 22-T Finnisher gurney spoiler (0226 and 0235)
Direct replacement spoiler
Part # – 0129
UPC Code – 845937008541
Retail price – $6.00
(fits Finnisher T4.1, T4.2 and 22-T bodies)