JConcepts New Release – F2 Body for T6.1
The F2 body by JConcepts has been a trend setting design since its release on the buggy population. Now, Stadium Truck racers can drop-on a race favorite design to the highly anticipated Team Associated T6.1. As they say, the slate was once again swiped clean and the F2 was a ground up form started in the computer and ultimately finished by hand.
One of the key features is an arrow based design where the front is much narrower than the rear. While viewed from the top down, the F2 body has increased clearance in the front-end for tires shown to rub against the stock body during hard cornering or while running in high-traction conditions.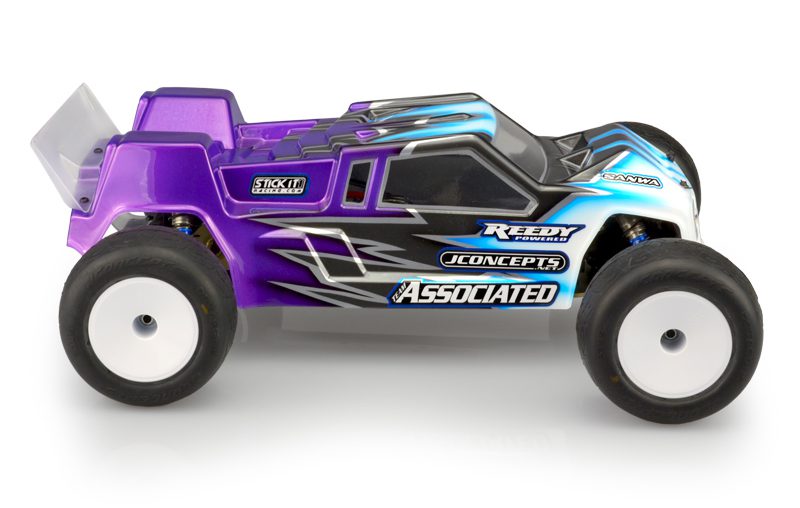 The narrower front-end appears on-point and with an all-new grille and headlight layout with 4 included grille options. The imprint of the nose draws in the truck enthusiast without giving up on the futuristic twist and Finnisher heritage. Protecting the front shock tower area is done with a traditional shape but contains new louver positioning and available air-release features located just in front of the main cab.
The cab is important, not only for performance but to set off the F2 design with angular roof and parallel window design. The popular dual side-window treatment has been once again incorporated into the design for maximum coverage. The new body includes the traditional Finnisher "V step-downs" in the bed area which makes it identifiable to the savvy racer.
Rear shock tower humps allow plenty of clearance for a front or rear shock configuration which is a common adjustment on the T6.1 race truck. The tail of the body has been lowered with an upper and lower transition making the rear a more durable piece even with light-weight materials. The F2 includes two spoilers, one for high-bite conditions and another taller version for low or medium bite conditions. The spoilers are durable and with proper trimming and included hardware bolt directly to the back of the new shell.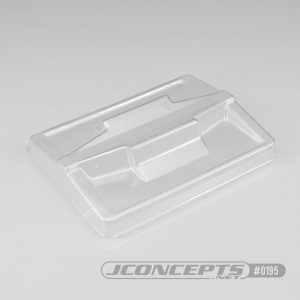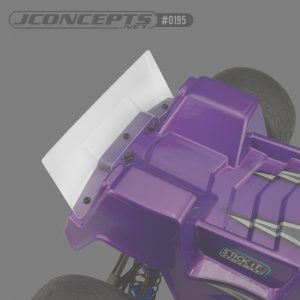 Wheel wells can make or break a truck body and the F2 delivers on smaller openings which have shown to close-up the body and minimize air-draft inside while turning and jumping. A slight flare to each gives some structure and rigidness to the panels and fine details the design. Between the wheel wells an F2 specific, double drop treatment has been chiseled and tucked into the hourglass shape of the rear-end. The double drop blends into a rocker panel body line which provides some stability to the layout and provides that all-important chassis clearance.
Each package includes window mask, new F2 specific decal sheet, two rear spoiler options and mounting hardware. The product is always backed by JConcepts customer service, supported and used trackside by our world-wide racing team and developed by professionals with style and authenticity.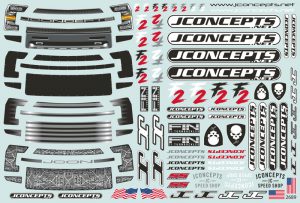 Features:
· Original – JConcepts F2 design
· Blended wing / body design
· Includes two rear spoilers
· Clear polycarbonate with protective film
· Window masks and F2 decal sheet
F2 – T6.1 Finnisher body w/ rear spoiler
Part# 0355
UPC Code – 845937019493
Retail price – $32.00
Map price – $27.20
(Fits – Team Associated T6.1)
F2 – T6.1 Finnisher body w/ rear spoiler – light-weight
Part# 0355L
UPC Code – 845937019509
Retail price – $32.00
Map price – $27.20
(Fits – Team Associated T6.1)
JConcepts – F2 body spoiler for #0355 F2, T6.1 body – 2pc.
Part# 0195
UPC Code – 845937019585
Retail price – $15.00
Map price – $12.75