JConcepts New Release – Detonator – RC10 Worlds Body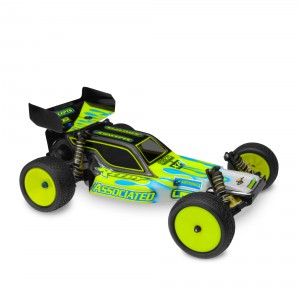 The RC10 Worlds car is back, JConcepts brings the passion with the Detonator Worlds body.
The buggy that performed so well during the 1993 IFMAR World Championships has been re-released by Team Associated and JConcepts is quick to respond with an all new Detonator Worlds body and 5.5" Hi-clearance wing. The spirit of the Detonator lives in the 1990's, starting with the rear biased, over rear tower, hung cab, super large window detail. The side-pods are simple, yet effectively cover the iconic aluminum tub chassis and skate by the latest in inboard electrical gear. Hard-edge chamfering along the sides of the body provides a current and trimmed look while one large side window, stands out giving that unique 90's racer style.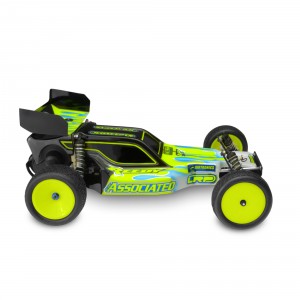 The front of the body slides just inside the front shock tower and nose brace tubes and gradually rises up to a center inlet scoop built into the hood. The back of the body has a powerful look, dipping down underneath the slick 5.5" wing and kicking up right at the rear adding flare and additional force over the rear-end. The Detonator pays homage to a selection of high-performance bodies from the late 80's and early 90's with a clean, cut to the chase desert buggy design and appeal.
Included in each Detonator package is a 5.5" wing that is designed to fit flat and sits down and hugs the back of the body. A simple, yet detailed wing design provides plenty of "sling" clearance for dirt and debris from the rear tires. A full selection of gurney options on the rear of the wing gives racers a selection of heights to trim to, depending on the level of traction. The wing side-dams are finished off with a little inspiration from today with the leading edge angled and already in attack mode. Support vintage off-road and the vehicle that won it all in 1993. Detonate with JConcepts.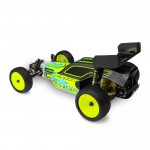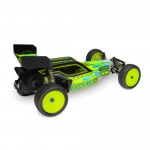 Features:
· Original JConcepts design
· Classic 1990's design inspiration
· Super large window detail
· Rear biased cab, over rear tower design
· Snug-fit chassis to body design
· Reverse hood scoop
· Includes 5.5" rear wing
· Includes decal sheet and window mask
Detonator Worlds – RC10 Worlds car body w/ 5.5 wing
Part# 0279
UPC Code – 845937011800
Retail price – $26.00
(Fits – RC10 Worlds car or similar)