JConcepts New Release – Chevy 1500 Silverado For The Rustler

Wherever you are, you'll see a Chevy Silverado on the job. Chevy Silverado and JConcepts – work hard, play hard. Like a rock. Never one to relax, JConcepts introduces the 2012 Chevy Silverado 1500 body for the Traxxas Rustler. Starting with its low-profile design, beefy fenders and noteworthy Silverado appearance, the 1500 body is inspired by the looks of a class leading full-size pick-up, loaded with performance features. Fitting directly on the popular Traxxas Rustler line of vehicles, the Chevy 1500 is just what you have been looking for.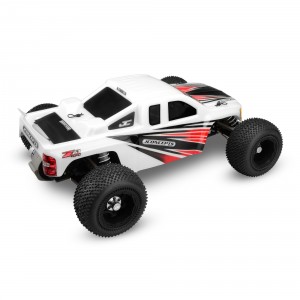 The JConcepts body is a racer starting with the slammed look and blended 1:1 inspired appearance. The Chevy 1500 pops out as a high-voltage performer and packs in the detailed design you have come to expect from JConcepts. Extruded front and rear fender flares for maximum tire and linkage clearance include a slight hood-scoop raised portion to bulk up the front-end. The rear bed has built-in clearance for the Rustler shock tower and shocks to help maintain that sleek appearance. The body comes included with a spoiler on the back of the body mold which can be trimmed and detailed to drop right on the rear and secured with 2 included JConcepts button head screws.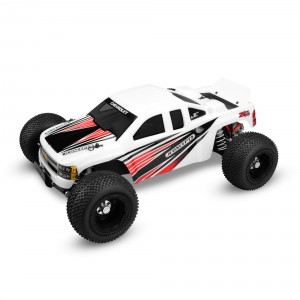 Whether you start your day on the race track or in the back-yard, the Silverado packs a serious punch straight out of the package. The head-light and grill treatment scream Chevrolet while the decal package helps the bow-tie truck standout from the competition.
The Chevy Silverado Runs Deep.
Features:
· Officially licensed by General Motors to JConcepts
· 1:1 Chevy Silverado inspired design
· Original JConcepts race blended styling
· Racing inspired body, cab and window design
· Aggressive headlight and grill treatment
· Extruded front and rear fender flares
· Clear polycarbonate with protective film
· Window masks and detailed Chevy decal sheet
Illuzion – 2012 Chevy 1500 Silverado – Rustler XL-5 body
Part # – 0249
UPC Code – 845937008589
Retail price – $30.00
(Fits – Traxxas Rustler vehicle line)
General Motors Trademarks used under license to JConcepts, Inc.
Revo®, JATO

, T-MAXX

, SLASH®, SLASH 4X4® etc. are trademarks and registered trademarks of Traxxas L.P.