JConcepts New Release – Chasers 4.0″ 1/8th Truck Tires
The Chasers rely on hefty, medium lugs which are angular in multiple directions. The horizontal type tread has a striking similarity to the trusty Crossbow tire which has remained a favorite for the last several years. Chasers have a lower, closer lug arrangement which gives incredible responsiveness and bites in medium, high and low grip conditions. The wet and dry condition tire has small recessed cuts in the top of the tread for extra edges and increased formability over terrain. The center overlapping bar treatment increases durability in the highest wear region of the tire.

Recently, Ryan Maifield utilized the Chasers tire in green compound to TQ round 2 of qualifying at the 2015 Silver State race held at RC Tracks Las Vegas in Nevada. All new tires will include the latest insert from JConcepts. The Dirt-Tech insert, popularized by its durable nature, will give customers the combo package they have been waiting for from JConcepts.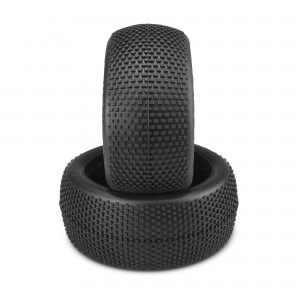 Features:
· JConcepts original tread, available in multiple compounds
· Horizontal, low-profile tread, close arrangement
· Recessed pins provide extra dig edges
· 4.0" bead mounting size for 1/8th truck compatibility
· Carefully shaped carcass = forward traction
· Includes Dirt-Tech closed cell inserts
Chasers – blue compound (fits 4.0″ 1/8th truck wheel)
Part # – 3124-01
UPC Code – 845937013668
Retail price – $35.00
(fits 4.0″ 1/8th truck wheel)
Chasers – green compound (fits 4.0″ 1/8th truck wheel)
Part # – 3124-02
UPC Code – 845937013675
Retail price – $35.00
(fits 4.0″ 1/8th truck wheel)
Chasers – black compound (fits 4.0″ 1/8th truck wheel)
Part # – 3124-07
UPC Code – 845937014788
Retail price – $35.00
(fits 4.0″ 1/8th truck wheel)
Chasers – red compound (fits 4.0″ 1/8th truck wheel)
Part # – 3124-08
UPC Code – 845937013682
Retail price – $35.00
(fits 4.0″ 1/8th truck wheel)
Chasers – green compound – 4.0″ white wheel, 1/8th truck tire – (pre-mounted)
Part # – 3124-21
UPC Code – 845937014344
Retail price – $50.00
(fits 1/8th truck)
Chasers – green compound – 4.0″ yellow wheel, 1/8th truck tire – (pre-mounted)
Part # – 3124-22
UPC Code – 845937014351
Retail price – $50.00
(fits 1/8th truck)