JConcepts New Release – Bro Codes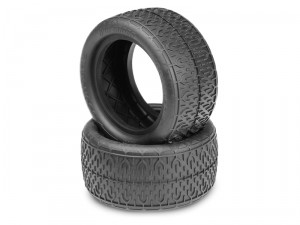 For immediate release –
The Bro Code has been broken at JConcepts, as the famously referenced tires have been released. The Bar Code V1 design has been a hit, the freshest tire design seen in the last 10 years of racing development regardless of class and scale has maintained its winning ways. As always, JConcepts understands tire development, specific details which determine performance. At first glance, Bros can be easily mistaken for the popular Bar Code but the details reveal a major difference. Introducing the first tire born as a Broken-in tread geared toward the finely tuned racer.

Broken-in lugs on the leading edge of the entire tread form a finely knit pattern of newly formed low-profile features. Why do certain tires work while others do not? JConcepts knows the reason, and on prepared, wet clay surfaces there is a tremendous advantage to starting off on the right tire, tread height, wear and compound.
Like the name suggests the Bro (Broken-in) alternating bar design combined with the addition of the Y side bars provide uncompromised support for many conditions. The Bro Codes, available in soft (blue), super soft (green) and clay indoor soft (gold) provide a full selection of compounds to dial into the appropriate surface.
All JConcepts Code tires are a part of a special breed of tire, designed for maximum performance when new or used, as the design allows even wear all the way down to the tire body. Bro Codes in new condition excel on soft surfaces that are clay based with a wet / tacky feel. Worn Bro Codes continue to excel on indoor clay tracks where a minimal dust groove has formed.
Already a winner, Ryan Maifield used the Bro Codes during the 2012 Winter Midwest Championships recording victories in the 2wd and 4wd modified classes. The Bro Codes are a result of consistent racing and learned behavior throughout racing history. JConcepts is World Proven Innovation and Design.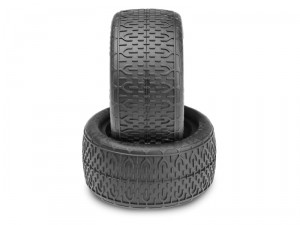 Features:
· Available in Soft (Blue), Super Soft (Green) and Indoor Soft (Gold) compounds
· Bar Code V1 inspiration with broken-in tread, low profile
· Compact tire body, high stability, individually flexible lugs
· Aggressive, supremely grippy feel on wet clay tracks
· Includes And-1 inserts

JConcepts Bro Codes product release video
BRO CODES – blue compound – (fits 2.2" 1/10th buggy rear)
Part # – 3066-01
UPC Code – 845937007254
Retail price – $17.00
(fits 2.2" 1/10th buggy rear)
BRO CODES – green compound – (fits 2.2" 1/10th buggy rear)
Part # – 3066-02
UPC Code – 845937007261
Retail price – $17.00
(fits 2.2" 1/10th buggy rear)
BRO CODES – gold compound – (fits 2.2" 1/10th buggy rear)
Part # – 3066-05
UPC Code – 845937007278
Retail price – $17.00
(fits 2.2" 1/10th buggy rear)