JConcepts New Release – Black Compound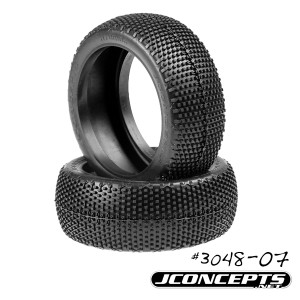 The most successful JConcepts 1/8th tire tread pattern now available in Mega Soft – Black Compound.
JConcepts is proud to unveil a new compound specifically for cold or very loose racing conditions. Black, Mega Soft compound has been in development for over 1 year with testing at tracks, facilities and events around the world. This is not a replacement compound but simply a tuning option for drivers looking for extra grip in very cold climates or extremely loose conditions. It's important to remember, compounds are crucial and to take advantage of a compound it must be utilized on the correct surface.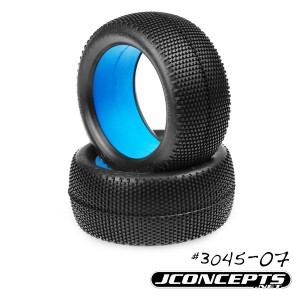 JConcepts compound and temperature range chart
00 – Yellow (medium feel)
· 91 degree and above
01 – Blue (soft feel)
· 76-90 degrees
02 – Green (Super Soft feel)
· 75-60 degrees
04 – Orange (Groove condition soft)
· 80-100 degrees
07 – Black (Mega Soft feel)
· 59 degrees and under
Hybrids – black compound – (fits 1/8th buggy wheel)
Part # – 3048-07
UPC Code – 845937008015
Retail price – $29.00
(fits 1/8th buggy wheel)
Hybrids – black compound – (fits Elevated bead 1/8th truck tire)
Part # – 3045-07
UPC Code – 845937008008
Retail price – $37.00
(fits Elevated bead 1/8th truck tire)