JConcepts New Release – B6, T6, SC6, 23T and 25T Aluminum Servo Horn – 15.5mm
One of the critical points of racing comes from the steering servo and proper servo horn. The horn transfers all the torque from the servo to the steering bell cranks and this piece needs to be created with precision and durability. The JConcepts servo horn created for both 23T and 25T count has all the geometry necessary as a direct bolt-on for the B6, T6 and SC6 generation of vehicles.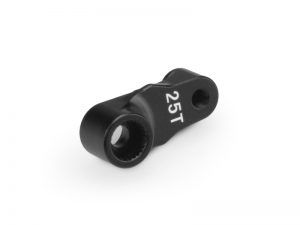 The broad base of the horn tapers to the connection area where the steering takes place. The heavy-duty boss on top protects the ball-end and provides a hefty surface for steering direction. Small ribs have been added on the sides to help strengthen the unit in a twisting fashion and a deep pocket hides the 3mm standard mounting screw. The entire horn has been retouched with chamfer highlight edging and laser etched with JC and the tooth count for high-end looks and authenticity.
Features:
Precision machined aluminum
Lightweight / durable design
Chamfer highlight edging
Available in black anodized color
Aesthetic, race- ready jewelry
JConcepts – B6, T6, SC6, 25T aluminum servo horn – 15.5mm
Part# 2850
UPC Code – 845937022875
Retail price – $14.00
Map price – $11.90
(Fits – B6, T6, SC6 generations)
JConcepts – B6, T6, SC6, 23T aluminum servo horn – 15.5mm
Part# 2851
UPC Code – 845937022882
Retail price – $14.00
Map price – $11.90
(Fits – B6, T6, SC6 generations)