JConcepts New Release – B44.2 Monroe Battery Brace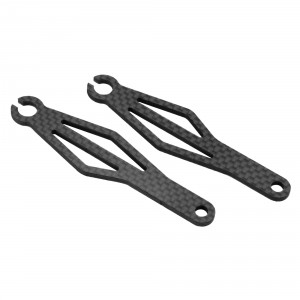 A much underrated aspect to working and maintaining any vehicle is the ability to install and remove the battery pack in a quick and precise manner. The Monroe carbon fiber battery brace for the B44.2 addresses all the needs of the racer in one simple package. Constructed in genuine 2.5mm carbon fiber material, the Monroe packs a light-weight punch from the beginning. The slim and light-weight design allows it to swing 90 degree articulation which provides the necessary amount of room to install or remove the saddle battery packs.
Security is provided by utilizing the stock hardware with the pivot ball used in the rear and lever / latch system in the front. Swing the lever to open and close and the Monroe provides the room to easily exchange battery packs on the fly.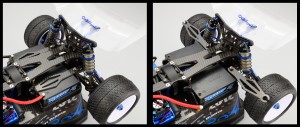 Features:
· Original JConcepts design
· 2.5mm Carbon Fiber material
· Fits on all B44.2 buggy kits
· Easy battery access design
· Utilizes stock mounting hardware
· Aesthetic eye-candy
JConcepts – B44.2 Monroe Carbon Fiber battery brace – 2pc.
Part # – 2188
UPC Code – 845937008183
Retail price – $25.00
(Fits – Team Associated B44.2)