JConcepts New Release – Aluminum Planetary Cap For Tribute Wheels
Add some luster to the Tribute wheels with the machined aluminum and black anodized planetary caps. The JConcepts wheels include plastic caps in the #3377 package which are always the same color of the wheels. The aluminum options are now available with the same details but sport the most popular color and finish for the true R/C Monster Truck fanatic.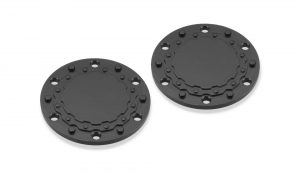 The caps feature a stepped design with detail on each level to match even the most scale and realistic parts available. The 6 hole bolt pattern fits like a glove between the geometry and the cap fastens to the wheels using the stock hardware from the Tribute wheels package. Scale down with aluminum planetary caps with JConcepts.
Features:
· Machined aluminum design
· Black in color anodizing
· Multi-level design with high detail
· Direct fit to #3377 Tribute wheels
· Mega durability
Tribute wheel, planetary cap – aluminum, black anodized – 2pc.
Part# 2400
UPC Code – 845937017925
Retail price – $30.00
Map price – $25.50
(Fits – #3377 wheel)