JConcepts New Release – Aero S-Type 7″ Rear Wing
The next generation of rear wings is here, developed and manufactured by JConcepts Inc. The 7" wide S-type wing includes options not yet seen before on a 1/10th off-road rear wing. An extended rear gurney lip makes tuning that much better for more grip on the loose surfaces while running the latest generation in off-road. The base of the wing design is built on the popular Aero wing but with new additions which make the wing more durable, more adjustable and ultimately a great tuning piece.
The S-type wing is a direct bolt-on piece for most all 1/10th scale 2wd and 4wd off-road buggies. The wing features a long chord construction with revised section to incorporate some reinforced ribbing in the vertical plane below the over-hanging gurney. Cut-lines and dimpled locations are positioned throughout for trim and tuning options. The new 7" variant of the S-Type wing was used in competition during the 2019 IFMAR Worlds in Trenčín, Slovakia for increased rear traction.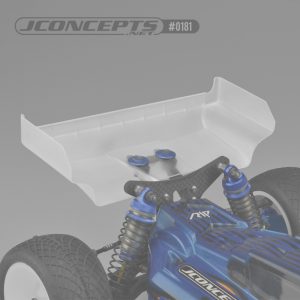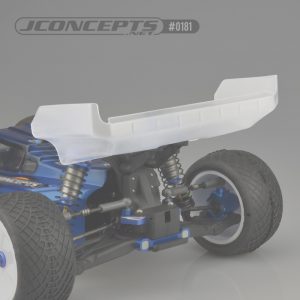 Features:
• Developed for World Championship event, 7" width
• Innovative design, durable material
• Industry first, forward gurney option
• Clipped rear corners minimize breakage
• Large openings for tire clearance and expansion
• Pro-level height and rake angle
• 1/10th off-road wizardry
JConcepts – Aero S-Type 7″ rear wing, 2pc.
Part# 0181
UPC Code – 845937018083
Retail price – $14.00
Map price – $11.90
(Fits – 1/10th off-road buggies)