JConcepts New Release – Advanced Formulated Tire Glue – Thin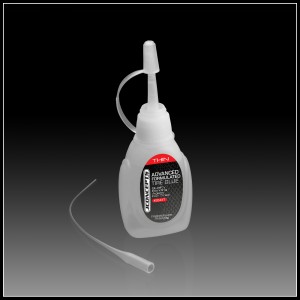 Tire gluing security is now only one step away with the release of the JConcepts Advanced Formulated Tire Glue. Available in a thin viscosity, the advanced formulated glue has proven to be a winner on and off the track with its incredible tack security, packaging and contents. The sealed package contains glue, gluing tip applicator and plugging needle. Gluing tires is an art form, having the right product, preparation materials and weather conditions all play a role into a properly mounted set of tires. Start off on the right track with JConcepts Advanced Formulated Tire Glue.
Paul Wynn, tire gluing aficionado and veteran racer states, "I glue a lot of tires and this is the best I've used."

Racer tips for a properly mounted tire –
1. Wash hands prior to assembling and gluing.
2. Clean bead area of tire with all purpose cleaner. Use Dirt Racing Products #8000, Dirt Cleaner for best results.
3. Avoid touching bead area for best bond strength.
4. Use only high quality (#2043M or #2043T), purpose built tire glue.
5. Slide the glue tip applicator partially (force fit) onto bottle and cut tube to desired length.
6. Pull back tire bead area and apply a liberal amount of glue to mating surfaces.
7. Wipe excess glue with a rag and allow to dry in a warm ventilated area. Direct sunlight is best.
8. Place JConcepts tire mounting rubber bands (#2005 or #2212) around the outside of the sidewall to assist in proper positioning.
9. Check your work and perform any touch-up necessary.
10. Go racing.
JConcepts – Advanced Formulated Tire Glue – Thin
Part# 2043T
UPC Code – 845937008510
Retail price – $10.00