JConcepts New Release – 60mm | 2.4″ Dirt-Tech Inserts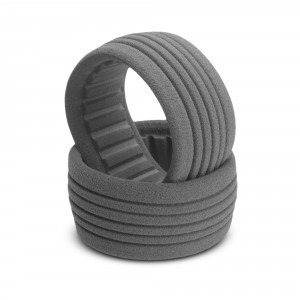 JConcepts has upped the ante with the release of the new 60mm Dirt-Tech closed cell inserts. Gray in color, the new inserts are designed in conjunction with tire insert guru, Brian "Dirt" Kinwald to bring the ultimate touch and feel while providing utmost durability. The 2wd | 4wd rear and 4wd front insert has alternating shallow and deep cuts on the outside which touch off against the tire inner carcass providing a cushy response and feel. The 2wd front insert has 3 relatively deep cuts spaced across the width giving a subtle feel to front tires for precise steering control. The inside has horizontal channels cut in a 360 pattern to soak up the large impacts and help create forward bite and increase acceleration.

The JConcepts design, with custom sculpted features, are blended into the newly developed material providing racers a durable option capable of being used in medium to extremely high-traction conditions. Testing has shown great results when used in these conditions and in popular tires such as 3D's, Bar Codes and Dirt Webs. Most recently Michael Schoettler TQ'ed and won the Spring Indoor Nationals at Tacoma R/C Raceway in the 2wd modified class utilizing the Dirt-Tech inserts.
Features:
· Medium | Firm density material and construction
· Extremely light-weight
· Versatile size, shape and profile, fits vast majority of tires
· Precise contoured manufacturing
· Durable material, can be reused
· Gray color for easy identification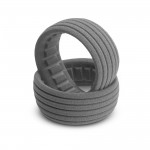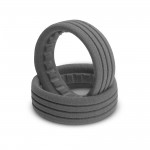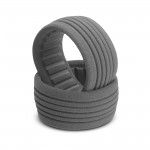 Dirt-Tech – 1/10th buggy 60mm 4wd front insert – 2pc.
Part# 3234
UPC Code – 845937011398
Retail price – $11.00
(Fits – 60mm, 2.4" 4wd front wheel)
Dirt-Tech – 1/10th buggy 60mm 2wd front insert – 2pc.
Part# 3235
UPC Code – 845937011404
Retail price – $11.00
(Fits – 60mm, 2.4" 2wd front wheel)
Dirt-Tech – 1/10th buggy 60mm 2wd rear insert – 2pc.
Part# 3236
UPC Code – 845937011411
Retail price – $11.00
(Fits – 60mm, 2.4" 2wd | 4wd rear wheel)