JConcepts New Release – 6.5″ Wide Hi-Clearance Wing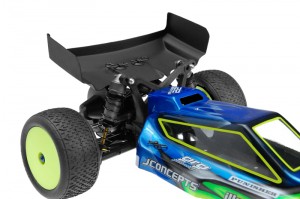 Illuzion – 6.5″ wide Hi-Clearance wing
Part # – 0123
UPC Code – 845937006455
Retail price – $10.00
(0219, 0220 direct replacement – fits TLR 22)
Hi-Clearance wing now available as a direct fit for the TLR 22.
1/10th buggies are very dependent on the rear wing for traction, flight control and balance. The Hi-Clearance wing from JConcepts incorporates several important elements making it the most versatile JConcepts wing yet. JConcepts has joined the high-performance wing into a paired combination that is easier to trim, detail and finish. Each performance wing package now includes 2 wings for added value to the customer.

Debuted at the 2011 IFMAR World Championships, the Hi-Clearance wing design has been used with success on medium to large sized tracks where fast, at-speed handling is required. The Hi-Clearance feature provides extra clearance for the expansion of tires during high acceleration points and especially on high speed straight-aways. The extra tire clearance also allows for full suspension movement during hard landings and full compression during corning. The 6.5" wing has multiple gurney heights to adjust straight-line stability for all conditions. The wing is marked and dimpled for quick mounting on the TLR 22 buggy, the 6.5" wing can also be fit to almost any 1/10th buggy available.
Features:
· Hi-Clearance – 6.5" width design
· Direct fit on the TLR 22 buggy
· Cut-lines for multiple gurney heights
· Includes 2 wings in each package
· Clear polycarbonate with protective film