JConcepts New Release – 4wd Front Space Bars
Backing up a legendary tire design is not easy, however, the team at JConcepts has delivered with the Space Bars. The 2.2" tire is designed for the popular indoor track conditions where the surface is mostly built of clay soil. The Space Bars came about after a meeting between Jason Ruona, Brian "Dirt" Kinwald and Spencer Rivkin about the evolution of mid-motor vehicles, large jump conditions and the continued search for the ultimate indoor tire.
During the 2016 ROAR Off-Road Nationals, ace driver, Ryan Maifield chose the new Space Bars in gold compound to compete against the most elite competition. In the 4wd modified class, during A-mains 2 and 3, Ryan dropped the hammer to take both victories to secure another championship for JConcepts. Ryan claimed, by the time the finals rolled around, his Space Bars were in proper condition for victory and provided the perfect complement to his driving during the winning moments of the finals.
The tread, originally based on the legendary Dirt Webs tire design connects uniformly positioned Space Bars to create an amazingly stable tire. The fresh tire design relies heavily on a larger format of the original Web pattern for massive forward acceleration. Inside the supported bar portion rests long horizontal and short vertical alternating bars which help balance side-bite and backs up the Space Bar feature to help minimize wear. Designed to break-in quickly for competition but not wear out before that all important peak performance.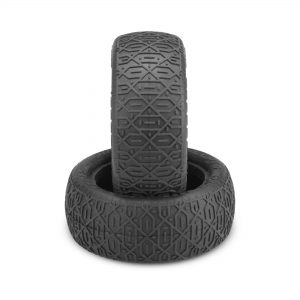 The outer edges feature a tiny single rib on each side which proves extra side-bite during heavy cornering and side-loading characteristics. The Space Bar tread sits on a rounder profile carcass with a shorter side-wall which transitions quickly and lands and jumps with increased traction. The plump look of the wide-body tire grips hard and also gives a sense of comfort for the aggressive driver. The inner ribbing has been updated to keep the tire expansion to a minimum while still providing a healthy dose of flexibility to the tire allowing a greater balance of monster forward traction and comfortable side-bite.
Don't Space out while climbing the ladder to success, choose the JConcepts Space Bars – World Proven Innovation and Design.
Features:
· JConcepts original tread
· Designed in conjunction Jason Ruona, Brian Kinwald and Spencer Rivkin
· Large format Space Bars for stability / forward grip
· Horizontal and vertical bars for side-bite
· Round profile carcass with short side-wall, quicker transition
· 2.2" bead mounting size for compatibility
· Includes Dirt Tech Closed cell foam inserts
JConcepts video introduction of Space Bars
Space Bars – gold compound
Part# 3178-05
UPC Code – 845937016447
Retail price – $26.00
Map price – $19.50
(Fits – 2.2″ 4wd buggy front wheel)