JConcepts New Release – 3Ds 1/10th Buggy Race Tire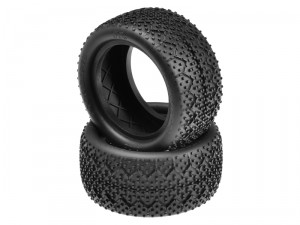 Straight-out of the JConcepts Third Dimension are the creatively designed 3Ds 1/10th buggy race tire. Debuted at the IFMAR World Championships in Pattaya, Thailand for the 1/8th buggy class, the 3Ds designed by Jason Ruona and tested by the JConcepts Team are a first of their kind. Developed to be the ultimate Slick-groove tire, the 3Ds are a first to combine the high-stability design of a black groove bar tire into an individually flexible pattern of finely spaced Double Dee lugs in one package. 3Ds include the And-1 insert.
The roots of the 3Ds design came after extensive research and development over a period of 2 racing seasons. As racing on both indoor and outdoor conditions have matured, a more flexible, supremely grippy tire design was necessary to drive the edgy, fast pace. The 3Ds grip as a new, highly sought after, favorite in these conditions.

3Ds excel on indoor and outdoor hard packed surfaces with either dry or wet conditions. Drivers will feel the immediate impact of the exclusive design and proprietary rubber compound as they rip around the track at blistering speeds. An all-out design for racing, pure JConcepts.
Features:
· Available in Soft (Blue) and Super Soft (Green) and Outdoor Soft (Orange) compounds
· Compact tire body, high stability, individually flexible lugs
· Aggressive, supremely grippy feel
· Includes And-1 inserts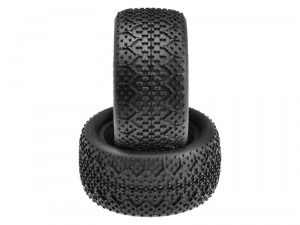 3Ds – blue compound – (fits 2.2″ buggy rear wheel)
Part # – 3058-01
UPC Code – 845937006424
Retail price – $17.00
(fits 2.2″ buggy rear wheel)
3Ds – green compound – (fits 2.2″ buggy rear wheel)
Part # – 3058-02
UPC Code – 845937006417
Retail price – $17.00
(fits 2.2″ buggy rear wheel)
3Ds – orange compound – (fits 2.2″ buggy rear wheel)
Part # – 3058-04
UPC Code – 845937006431
Retail price – $17.00
(fits 2.2″ buggy rear wheel)