JConcepts New Release – 2005 Chevy 1500 Singe Cab Body
The 2005 Chevy Silverado is a big, all-American truck, and it looks the part, with its wide face and stylish yet slab-sided flanks. Ninety-degree angles dominate the styling providing that all-important Chevy "bowtie" look and the horizontal hardlines along the body panels ensures the truck's dramatic road presence. The "cat-eye" headlights stare down the competition while the upper and lower grille marks its territory and provides an impactful arrival.
The body was designed and engineered to deliver the capability that customers have come to expect from the JConcepts pickups. When it comes to monster trucks, Chevrolet has a die-hard following going back to the square body designs of the 70's and 80's. A keen eye will detect the family heritage in monster trucks and now JConcepts is bringing another favorite to the RC loyalist. A heavy project for the JConcepts R&D team was developing this body to length and width specifications while maintaining the single cab layout.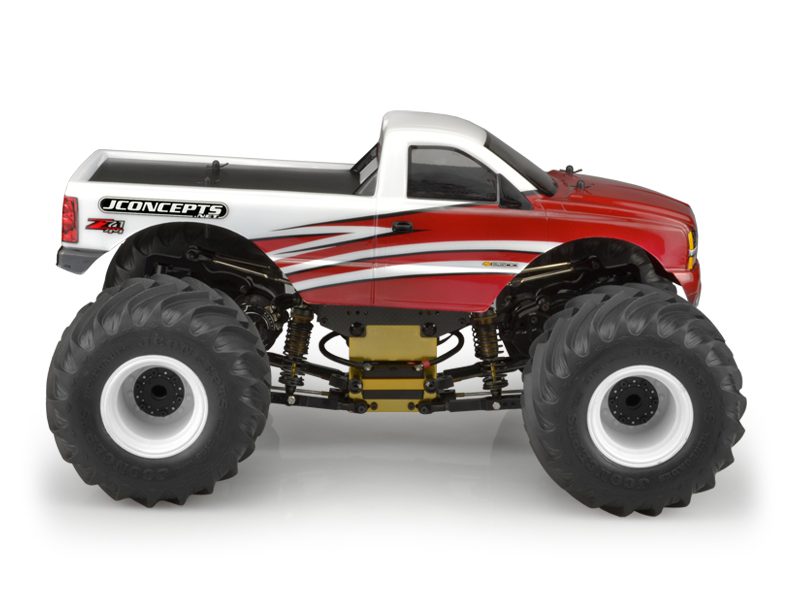 A highly popular body in the 1:1 community, the single cab has a mystique. From the large budget teams all the way to independent trucks, the 2005 is an important shell in the industry. Settling on the 12.5" wheelbase was easy, deciding bed length and wheel well openings was a painstaking process behind the scenes. The end result, the 2005 Chevy Silverado has an inspiring look, something that makes a driver proud to be a truck enthusiast without the fear to race it.
The chiseled front-end, bumper fascia and front tire openings gives off a lot of "monster madness" while the aerodynamics remain for the truck to hold its own in a straight-line. A twin-port grille, full-width bumper and "power hump" hood create a strong presence, which is carried through in sculpted body sides. The grille area has not been compromised and accepts the detailed JConcepts decal sheet and includes two different grille and headlight options. The front fascia is strong and while the large tire openings swoop through, the bumper has recessed areas for side-marker lights and air inlet.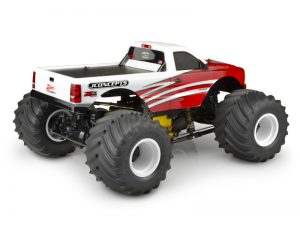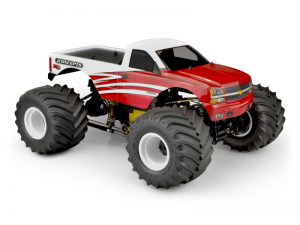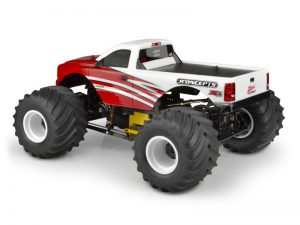 The tailgate is rigid in appearance with a slight undercut that is so common on the Chevrolet trucks. The 2005 Silverado's bed features a slight recess which painters can leave clear or detail to their specification on any build. No race truck would be complete without a bobbed rear bedside to give racers extra clearance and an unmistakable visual rake. Each package includes window mask, 2005 generation Chevy Silverado specific decal sheet and clear polycarbonate body. The product is always backed by JConcepts customer service, supported and used trackside by our world-wide racing team and developed by professionals with style and authenticity.
Features:
• Officially licensed by Chevrolet to JConcepts Inc.
• Body measures 7.50" in width and 12.5" wheelbase
• Fits a variety of platforms including solid axle race trucks
• Scale inspired body, cab and window design
• 1:1 headlight and grill treatment
• Clear heavy-duty polycarbonate with protective film
• Window masks and detailed 2005 Chevrolet decal sheet
Chevrolet and nameplates are registered trademarks owned and licensed by Chevrolet. Manufactured by JConcepts, Inc
2005 Chevy 1500 MT single cab
Part# 0399
UPC Code – 845937021496
Retail price – $44.00
Map price – $37.40
(Fits – 7.25″ width & 12.50″ wheelbase)