JConcepts New Release – 2.8″ Subcultures Pre-mounted On White Rulux Wheels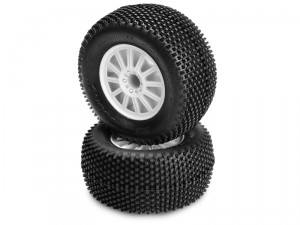 2.8″ Off-Road Performance from JConcepts.
Subcultures, the popular three tier design from JConcepts, are now available in the popular 2.8″ bead mounting diameter. The 2.8" bead-size is used on the popular Traxxas line of vehicles including the Stampede, Stampede 4×4, Rustler and Jato vehicles. The JConcepts design conveniently matches the Traxxas standardized design and is interchangeable back and forth between all Traxxas 2.8″ wheels and tires. With JConcepts, a high performance option is now available.

The JConcepts design team started from the ground-up with an all new tire design. Designed around a large diameter tire body carcass the Subcultures have the size to take on just about any condition found in the outdoors while giving the vehicle an unmatched visual presence and aggressive stance.
Leaving no detail untouched, the Subcultures carry a beefed up version of the racing inspired 3-tier tread design and configuration giving users a level of performance that was previously unheard of.
It's a whole new world down within the tread as the Subcultures are the first 2.8″ tire with three-tier lug technology. The precisely spaced pyramid shaped tread provides the initial feel and control for hard packed, loose and loamy conditions while the step base give the necessary height for wet and soft conditions. At the very base of the Subcultures is a mesh of tread which provides grip at a time when most tires are left bald. Available in soft blue compound, the Subcultures are a specialty tire that when matched to the appropriate conditions can provide the performance and all-around tire that enthusiasts dream of.
The 2.8″ Subcultures provide elements that combine light-weight, performance and durability with the inclusion of Profiled closed cell inserts. The highly successful insert material made it's fame on the 1/8th off-road racing circuit and now into the JConcepts 2.8″ line. Feel at ease while doing high-speed runs with the durability and performance of the closed cell material which provides durability and feel when others run short.
One large diameter all-terrain tire body profile with hefty Subcultures tread, together with the durable Profiled closed cell inserts has revolutionized tires for the most popular assortment of vehicles on the market. JConcepts is World Proven Innovation and Design.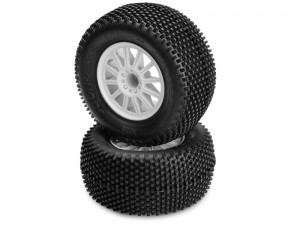 Features:
· Popular 2.8″ bead mounting diameter
· Interchangeable with standardized Traxxas wheels and tires
· Available in Soft (Blue) compound
· Large diameter to tackle uneven terrain
· Super aggressive tread with 3-tier design
· Include light-weight and durable profiled closed cell inserts
Subcultures – blue compound – white wheel – (pre-mounted)
Part # – 3055-1130
UPC Code – 845937008688
Retail price – $35.00
(Fits – Stampede 4×4 F&R and E-Stampede and E-Rustler 2wd front)
Subcultures – blue compound – white wheel – (pre-mounted)
Part # – 3055-1140
UPC Code – 845937008695
Retail price – $35.00
(Fits – E-Stampede and E-Rustler 2wd rear)