JConcepts New Release – 1972 Chevy C10 Scalpel Body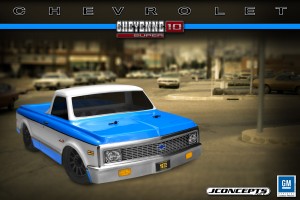 Speed is everything; it's the greatest gift of R/C and particularly with the Traxxas Slash 4×4.
An extremely popular off-road truck, the Slash 4×4, has all the components of an absolute beast of an on-road vehicle. JConcepts own design, the Scalpel, and front bumper conversion, convert the Slash 4×4 into an insane speed-run machine. Take on your personal salt-flats, drag strip or closed circuit course with power, speed, agility and style with JConcepts.

The 1972 Chevy C10 truck body by JConcepts is a perfect complement to the Scalpel Speed-Run conversion kit for the Slash 4×4. Officially licensed, the C10 boasts a wide-body stance which allows it to tame high-speeds while showing off that all important retro look from the 1970's. Large front chin-spoiler with maximum impact grill treatment leaves the competition green with envy.
Large fenders allow plenty of clearance for the 2.8" G-Locs tires and the C10 roof-line stands firm. A shallow bed area gives the truck-like appearance while maintaining that all inclusive speed-line structure. Finishing off the body is clean and smooth with the inclusion of grill, headlight, taillight and miscellaneous logos that make the C10 look the part. Throw it back in time, grab a Chevy C10 for your Scalpel conversion kit and blast into the future.
Features:
· Officially licensed by GM to JConcepts Inc.
· Original JConcepts Scalpel design and concept
· Chiseled front-end with chin-spoiler
· Stout C10 roof-line
· Wide body design to allow additional width
· Shallow bed area, truck-like appearance
· Includes detailed 1972 Chevy C10 decal sheet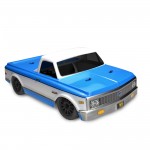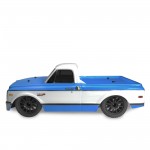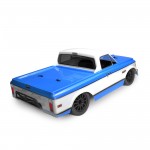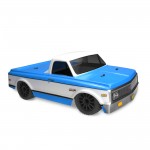 Making the conversion:
Converting the Slash 4×4 to the Scalpel speed-run vehicle requires body, bumper conversion and tires and wheels are highly recommended. The assembly is simple and takes only minutes to complete. First, remove stock bumper assembly and replace with the JConcepts conversion kit speed-run accessories and foam bumper. For the C10, use the standard kit front body mounts and the included low profile body mounts on the rear. Make small changes to suspension set-up to limit down and up travel per instructions. Detail, paint and trim body. Prep, mount and glue JConcepts 2.8" G-Locs tires onto 2.8" Rulux wheels and secure to the vehicle. Locate, mark and ream the body mount locations and drop body into place. Hit your favorite closed circuit for the wildest speed-runs imaginable.
0240 – Illuzion – Slash 4×4 – Scalpel Speed Run body
0267 – 1972 Chevy C10 – Scalpel speed run body – requires #2173 JC bumper conversion kit
2173 – Slash 4×4 – front bumper conversion kit
3056-00 – G-Locs – yellow compound – (fits 2.8″ wheel)
3340B – Rulux – 2.8″ E-Stampede – Rustler 2wd front and 4×4 F&R wheel
1972 Chevy C10 – Slash 4×4, Scalpel Speed Run body – requires #2173 JC bumper conversion kit
Part # – 0267
UPC Code – 845937010995
Retail price – $43.00
(Fits – Slash 4×4 – requires #2173 JC bumper conversion kit)
General Motors Trademarks used under license to JConcepts, Inc.
Revo®, JATO

, T-MAXX

, SLASH®, SLASH 4X4® etc. are trademarks and registered trademarks of Traxxas L.P.