JConcepts New Release – 1970 Chevy K10 (10.5 – 11.00″ wheelbase)
During the late 60's and early 70's, the major vehicle manufacturers determined it was time for trucks to stop looking so "trucky." One of the leaders in this movement was Chevrolet. It was not an easy task but now owners could be proud of their purchase and snappy looks and display it in the driveway. Trucks were functional, but now, they were also great looking on the exterior and a little fluffier in the interior to provide more comfort during chores, commuting and even hard work.
On the RC side of things, JConcepts has a passion for pick-ups and the 70's models who shaped the off-road and tough working truck community. The popularity of scale and Monster Trucks sent JConcepts to the trenches in search of the ultimate line of iconic trucks to compliment a range of vehicles utilizing a 10.5 to 11.00" wheelbase such as the Tamiya Clod Buster and Traxxas Stampede. The 1970 shell is powerful, and the square body shape is a shout-out to simpler times when a hard day's work was a bedful of goodness.
For the 1970, a lot of the glamour rests in the front grille and headlight package as well as the layered and sculpted rear tail gate and taillight section. These details are found on and included in the decal sheet along with many emblems and trim packages to complete your body in several popular looks from that generation. A chiseled front-end is gently swept back from the center and molded in front bumper with diamond plate like top. Fender wells are round, and a huge flare was added with raised edging making them ideal for recreating several iconic Monster Trucks from the golden era.
The hood on the Chevy is rock solid in shape that planes across the center ridgeline. A built-in hood scoop is in a great position to add any additional parts a user can think of such as predator carburetors or injector hat. The cab and windshield are a key styling point on this creation and the "cap" look to the cab has the hard edge around the sides and visor like appearance to the front. Side windows fit within the geometry as expected with classic vent windows lining the front corner. The bed styling features the bodylines that make the Chevy authentic vintage and a slight recess in back provides a healthy setting for body mounts or other aftermarket accessories.
Rear bumper is also molded into the design giving the truck a solid look without bolt-on parts or additional pieces. Side-markers on the 1970 are horizontal which is also included in the decal sheet. The wheel wells are large and tasteful 1:1 representation for the most clearance or maximum articulation with large tires, it might be necessary to trim further into the fender flares for extra-large tire sizes.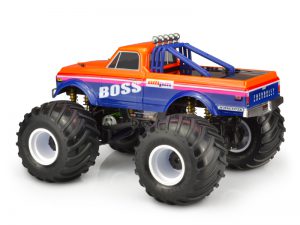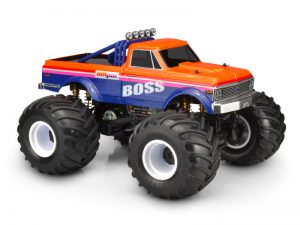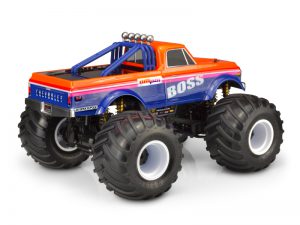 The years 1967-1972 showed a lot of looks through Chevrolet and GMC variants. With small changes to grille, headlights, and trim packages throughout the years, JConcepts has added a bonus to the included decal sheet. An incredible 4 different grille options are included on the sheet giving the user the option of their favorite package from yesteryear. Hard panned single headlight and double light bezel setups are included which contain bar and tube grille combinations. In addition, a plethora of badges are offered on the sheet featuring Cheyenne, Custom, C/10, C/20, and CST/10 combinations.
70's fans, let us appreciate. JConcepts has the body for you.
Features:
• Officially licensed by General Motors to JConcepts
• Direct fit for 10.5 – 11.00" wheelbase trucks
• Scale inspired body, cab, and window design
• Multiple, 1:1 headlight and grille treatment options
• Clear heavy-duty polycarbonate with protective film
• Window masks and detailed Chevrolet decal sheet included
Notes:
Body is custom painted and used for photography purposes only
The Triple Double roll-bar is a part available in the JConcepts Shapeways store
Light bar for the Triple Double roll-bar is a part in the JConcepts Shapeways store
1970 Chevy K10 (10.5 – 11.00″ wheelbase)
Part# 0415
UPC Code – 845937022141
Retail price – $42.00
Map price – $35.70
(Fits – Clod Buster and Stampede 2wd)
GMC, Chevrolet, and nameplates are registered trademarks owned and licensed by General Motors. Manufactured by JConcepts, Inc.
Revo®, JATO

, T-MAXX

, SLASH®, SLASH 4X4®, Rustler®, Stampede® etc. are trademarks and registered trademarks of Traxxas L.P.