JConcepts New Release – 12mm Aluminum Hex Adaptor in 25mm Offset
The Tribute wheels have been a hit on and off the track for R/C monster truck racers. One of the key features of the wheels involves having replaceable adaptors which can alter the vehicle width. For the high-power crowd, JConcepts is proud to offer the 25mm offset adaptors as a machined aluminum option. With the aluminum adaptors, racers can now power up and race worry free with the widest track width available by JConcepts.
The precision machined hexes are light-weight, feature black anodizing with laser engraved offset markings. The hex adaptors bolt-up just as the production units, utilizing the stock hardware in a beefy 6 lug pattern. Go fast, be durable and look the part with JConcepts.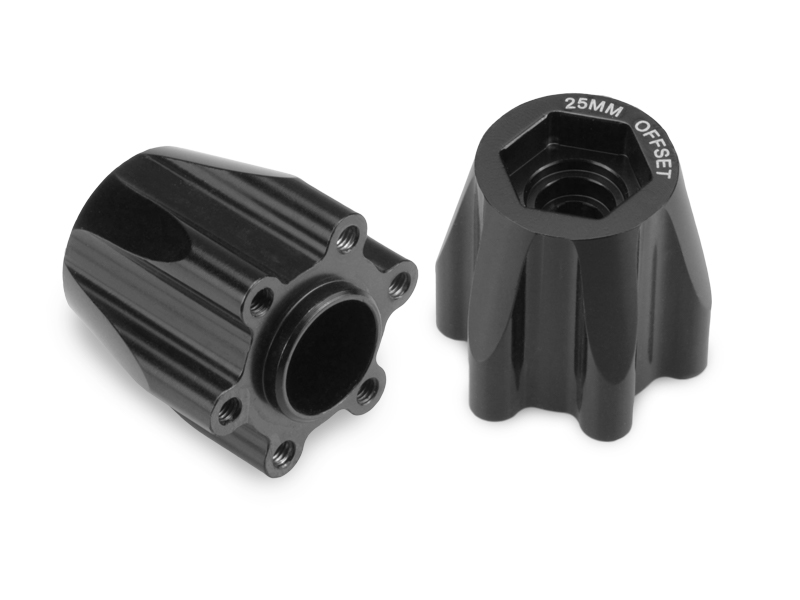 Features:
· Machined aluminum design
· Black in color anodizing
· Laser engraved offset marking
· 25mm offset with 6 lug bolt pattern
· Mega durability
Tribute wheel, aluminum 12mm hex wheel adaptor, black anodized – 25mm offset – 2pc.
Part# 2401
UPC Code – 845937017932
Retail price – $30.00
Map price – $25.50
(Fits – #3377 wheel)