JConcepts New Release – 10th Anniversary T-Shirt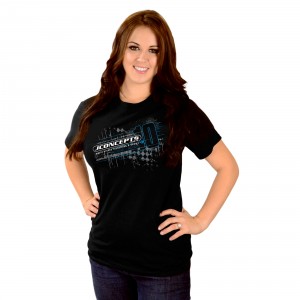 Ten years of innovation, design and champions.
JConcepts celebrates their 10th anniversary with the release of a new limited edition T-shirt. From the prototype B4 Illuzion body and BJ4 competition 4wd buggy debut at the 2003 IFMAR Worlds all the way to the recent racing success during the 2013 Cactus Classic, JConcepts has transitioned throughout the years and ascended through the industry placing itself among the elite. The front of the new racing shirt showcases the most current JConcepts.net logo along with striker imagery, a large arrow which signifies moving forward with a bold 10 making the anniversary statement. The rear consists of a collage of championships and accomplishments which have been of great importance during an amazing 10 year run.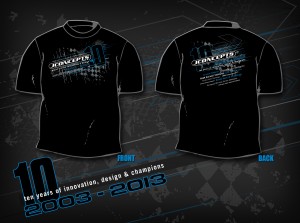 Credentials:
· IFMAR World Champion
· ROAR National Champion
· European Champion
· JMRCA Champion
· Reedy Race of Champion
· Cactus Classic Champion
· Dirt Nitro Challenge Champion
· Hot Rod Shootout Champion
· European Off-road Series Champion
· JConcepts Indoor National Champion
Features:
· Black, 100% cotton t-shirt material
· 2013 JConcepts logo front and rear
· Bold 10 statement graphic
· Collage of event championships
JConcepts – 10th anniversary t-shirt – small
Part # – 2289S
UPC Code – 845937009951
Retail price – $22.00
JConcepts – 10th anniversary t-shirt – medium
Part # – 2289M
UPC Code – 845937009968
Retail price – $22.00
JConcepts – 10th anniversary t-shirt – large
Part # – 2289L
UPC Code – 845937009975
Retail price – $22.00
JConcepts – 10th anniversary t-shirt – X-large
Part # – 2289XL
UPC Code – 845937009982
Retail price – $24.00
JConcepts – 10th anniversary t-shirt – XX-large
Part # – 2289XXL
UPC Code – 845937009999
Retail price – $26.00
JConcepts – 10th anniversary t-shirt – XXX-large
Part # – 2289XXXL
UPC Code – 845937010001
Retail price – $26.00