JConcepts New Release – 1/8 Truck Stackers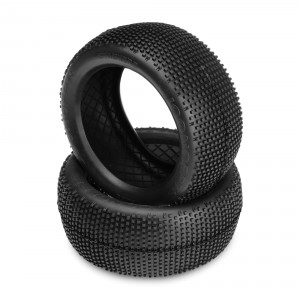 Speed, longevity and consistency describe the winning fundamental elements of any 1/8th race or driver characteristics. The Stackers tire by JConcepts is a culmination of successful DNA from the highly popular Hybrids and Crowbars tire tread patterns. The Stacker reveals a heavy center lug design which are supported at the lower base with extra rib features and tiny fillets which provide a heavy forward gripping force. Directional slashes cut into the tread soften the lugs to absorb bumps and also increase the lug flexibility to accommodate loose conditions.
The outer rows are a medium to hefty size lug with alternating positioning to drive forward and side-bite while the Stacked rows actively react with one another to lower the overall wear of the tire. The side-lugs are finished off with a hard angle to ease the transition from forward to side-bite while maintaining a linear feel without edginess in the turns. The Stacker inner ribbing features a repeated X-type ribbing which reduces the amount of tire expansion under power while still being soft and cushy for bumps and rutted sections. The Stackers include JConcepts "Force-1" inserts to finish off an extraordinary tire.

The Stackers in the hands of JConcepts / Team Associated driver Ryan Maifield have already TQ'ed the buggy class at 2012 ROAR Off-Road Fuel Nationals in Oakland Mills, PA and took a quick 30 minute victory at the 2012 JConcepts Clash in Flowood, Mississippi. The Stackers are the real deal when it comes to extended main events and conditions which require speed and longevity.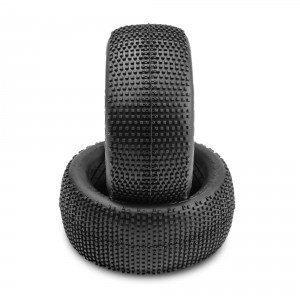 Features:
· JConcepts Stacked / Hybrid type design
· Heavy center lug design for increased forward bite
· Ideal spacing for performance, traction and wear
· Super aggressive tread including stacked features
· Available in Medium (Yellow), Soft (Blue), Super Soft (Green), Mega Soft (Black) compounds
· Include light-weight and durable "Force-1" inserts
Stackers – yellow compound
Part # – 3069-00
UPC Code – 845937008206
Retail price – $35.00
(fits Elevated bead 1/8th truck tire)
Stackers – blue compound
Part # – 3069-01
UPC Code – 845937008213
Retail price – $35.00
(fits Elevated bead 1/8th truck tire)
Stackers – green compound
Part # – 3069-02
UPC Code – 845937008220
Retail price – $36.00
(fits Elevated bead 1/8th truck tire)
Stackers – black compound – mega soft
Part # – 3069-07
UPC Code – 845937008237
Retail price – $37.00
(fits Elevated bead 1/8th truck tire)