JConcepts New Release – 1/10th Off-Road 60mm Buggy Wheels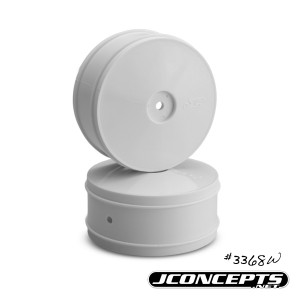 For many years the standard option on 1/10th off-road vehicles has been a proven 2.2" bead mounting diameter. Times have changed, JConcepts Bullet 60mm hex wheels are the latest accessory available for the raging 1/10th off-road class. With the recent popularity of a larger wheel, customers have asked for a genuine JConcepts option in the larger configuration and boom, it's been done.
The new Bullet wheels are sized at the industry interchangeable 60mm and make a statement with their large appearance. Slight concave dish shaped design on the AE wheels and slightly convex shape on the TLR line of wheels stand apart giving each line their unique appearance. The wheels incorporate an outer glue catch that resists excess glue from running down the wheel face during the gluing process. JConcepts wheels are manufactured using advanced techniques to ensure trueness and durability and are branded with the small JC logo for brand identification and authenticity.

The theoretical advantage to a larger bead mounting diameter revolves around weight savings and side-wall handling characteristics. The larger wheel allows for an insert and tire with less material netting an overall weight loss in all important rotating weight. This is especially attractive for stock racers always looking to reduce weight. Modified racers will see more benefit in high-speed stability and straight-line tracking.
Wheel sets are available for all popular Team Associated, TLR, Kyosho, Yokomo, Serpent and XRay further establishing JConcepts as the go to line for all makes and models. 60mm wheels require tires and inserts designed for 60mm bead mounting diameter and are not completely interchangeable with their 2.2" counterparts. Although these popular large wheel sets are not a replacement for 2.2" wheels nor ROAR legal at this time (2014), they remain a popular tuning aid to racers always pushing for excellence.
Features:
· Industry interchangeable 60mm
· Popular dish styling and detail
· 4 wheels included per package
· Available in bright white and fluorescent yellow
· Advanced manufacturing process and durable material
· Fits available for almost all brands of vehicle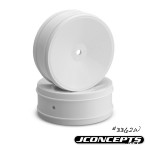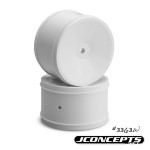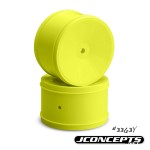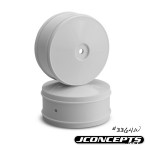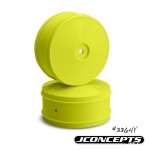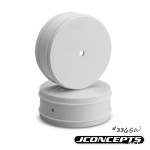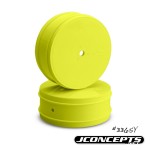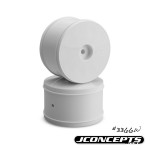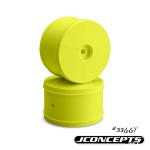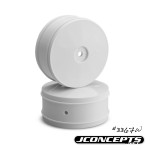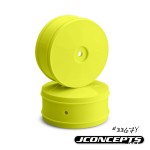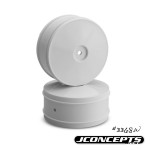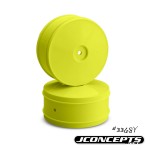 Bullet – 60mm B5 | RB6 front wheel – (white) – 4pc
Part # – 3362W
UPC Code – 845937011442
Retail price – $14.00
(Fits – RC10B5 | B5M, RB6 and Serpent Spyder)
Bullet – 60mm B5 | RB6 front wheel – (yellow) – 4pc
Part # – 3362Y
UPC Code – 845937011459
Retail price – $14.00
(Fits – RC10B5 | B5M, RB6 and Serpent Spyder)
Bullet – 60mm B5 | RB6 rear wheel – (white) – 4pc
Part # – 3363W
UPC Code – 845937011466
Retail price – $14.00
(Fits – RC10B5 | B5M, RB6, Serpent Spyder, XRay XB4 rear with adaptor)
Bullet – 60mm B5 | RB6 rear wheel – (yellow) – 4pc
Part # – 3363Y
UPC Code – 845937011473
Retail price – $14.00
(Fits – RC10B5 | B5M, RB6, Serpent Spyder, XRay XB4 rear with adaptor)
Bullet – 60mm B44 front wheel – (white) – 4pc
Part # – 3364W
UPC Code – 845937011480
Retail price – $14.00
(Fits – B44 line of vehicles)
Bullet – 60mm B44 front wheel – (yellow) – 4pc
Part # – 3364Y
UPC Code – 845937011497
Retail price – $14.00
(Fits – B44 line of vehicles)
Bullet – 60mm TLR 22 front wheel – (white) – 4pc
Part # – 3365W
UPC Code – 845937011503
Retail price – $14.00
(Fits – TLR 22 line of vehicles)
Bullet – 60mm TLR 22 front wheel – (yellow) – 4pc
Part # – 3365Y
UPC Code – 845937011510
Retail price – $14.00
(Fits – TLR 22 line of vehicles)
Bullet – 60mm TLR 22 | 22-4 rear wheel – (white) – 4pc
Part # – 3366W
UPC Code – 845937011534
Retail price – $14.00
(Fits – TLR 22, 22-4 and Yokomo BMax4 III vehicles)
Bullet – 60mm TLR 22 | 22-4 rear wheel – (yellow) – 4pc
Part # – 3366Y
UPC Code – 845937011527
Retail price – $14.00
(Fits – TLR 22, 22-4 and Yokomo BMax4 III vehicles)
Bullet – 60mm TLR 22-4 front wheel – (white) – 4pc
Part # – 3367W
UPC Code – 845937011541
Retail price – $14.00
(Fits – TLR 22-4)
Bullet – 60mm TLR 22-4 front wheel – (yellow) – 4pc
Part # – 3367Y
UPC Code – 845937011558
Retail price – $14.00
(Fits – TLR 22-4)
Bullet – 60mm Kyosho ZX6 front wheel – (white) – 4pc
Part # – 3368W
UPC Code – 845937011565
Retail price – $14.00
(Fits – Kyosho ZX6, Yokomo BMax4 III and XRay XB4 front with 12mm adaptors)
Bullet – 60mm Kyosho ZX6 front wheel – (yellow) – 4pc
Part # – 3368Y
UPC Code – 845937011572
Retail price – $14.00
(Fits – Kyosho ZX6, Yokomo BMax4 III and XRay XB4 front with 12mm adaptors)