JConcepts New Product Release – Traxxas Monroe Battery Brace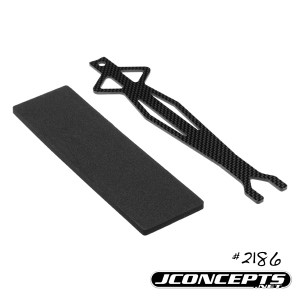 Battery braces are a highly visual and critical part of any electric R/C vehicle. Braces provide the security of the main power source on the vehicle as well as provide a look and feel to each vehicle. In addition, they give the user a quick way of accessing and performing a battery change or routine maintenance to the vehicle. The Monroe battery brace by JConcepts is highly functional and aesthetic eye-candy, designed from genuine 2.5mm Carbon Fiber, it performs as good as it looks.
With so much variety in today's batteries and with most vehicles having a flexible mounting position forward and aft, functionality is always a top priority. With the Monroe battery brace, running different battery positions is possible while maintaining the necessary terminal clearance and providing a healthy holding force to keep everything in tact even in the most demanding conditions or the inevitable crash.

JConcepts has also included an adhesive backed foam pad which applies to the vehicles plastic chassis giving the battery pack additional cushion while installed. The voluptuous shape, combined with exotic material and surface finish, tops off an all important look to the vehicle from the inside out.
Carbon Fiber is a conductive material, always neatly route wiring and keep terminals as far away as possible from material. Sometimes it is necessary to run the terminal position different depending on the battery position, it's highly recommended to study the layout and maintain a safe distance between wiring and battery brace.
Features:
JConcepts exclusive "Monroe" style and design
2.5mm Carbon Fiber material
Available for Traxxas Slash, Slash 4×4 and Stampede 4×4
Design allows battery movement forward and aft, if applicable
Utilizes stock clip and parts for attachment
Protective foam pad
Aesthetic eye-candy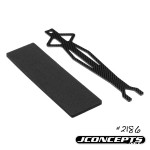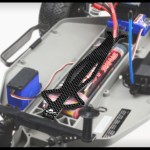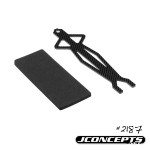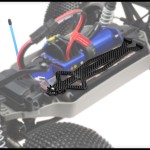 JConcepts – Traxxas Slash / Slash 4×4 Monroe Carbon Fiber battery brace
Part # – 2186
UPC Code – 845937008169
Retail price – $20.00
(Compatible with Traxxas Slash and Slash 4×4)
JConcepts – Traxxas Stampede 4×4 Monroe Carbon Fiber battery brace
Part # – 2187
UPC Code – 845937008176
Retail price – $20.00
(Compatible with Traxxas Stampede 4×4)
*Monroe battery brace accommodates battery packs with a flat layout. Tested and pictured with the stock Traxxas flat Nimh batteries, Reedy Lipo Wolf Pack and Venom Lipo 3s configurations.