JConcepts New Product Release – AE Ball-cup Assortment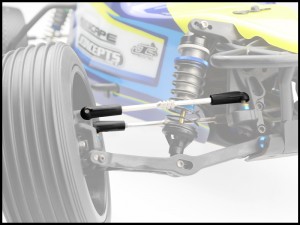 Tie-rod ends on 1/10th vehicles are under serious duress and with the ever evolving racing surfaces and layouts, a heavier duty design is required. JConcepts has gone to the drawing board and designed 2 different ball-cups which compliment the Team Associated assortment of vehicles. Ball-cups pop on and off as a requirement of their base design but limiting the bending, tweaking and brittleness is the focus of the new design.

First, the Wedge ball-cup has an increased diameter around the turnbuckle which naturally provides a beefy cushion between metal and plastic. Another feature to the Wedge design is the longer boss which slides over the solid shank of the turnbuckle increasing the overall strength of the connection. Included is an angled version of the Wedge which can be used on the outside of the rear camber link for increased clearance on the rear wheel and also to the inside which increases clearance around big bore shock springs.
The rib ball-cup is a more traditional design but incorporates 3 ribs across the weakest point resisting bends and tweaks normally associated with hard crashes. The rib ball-cup surrounds the turnbuckle with a round boss versus a hex design, slightly increasing the surrounding area where it is needed. A short, rib ball-cup is also included for servo to steering bell-crank connection. Both the Wedge and Rib ball-cups include an open top which allows for ball-end accessibility for quick and damage free adjustments.
Its recommend to use a slight amount of clear diff lube on the turnbuckle threads to assist in a smooth thread-in process during installation. A gentle hand in installing the ball-cups and adjusting the turnbuckles will go a long ways in terms of function and durability. As always, its advisable to always replace worn, previously popped or questionable parts prior to race events.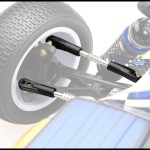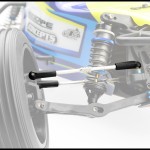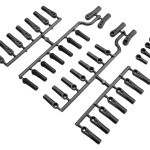 Features:
· Original JConcepts design
· Rib style for extra reinforcement and traditional applications
· Wedge style for heavy duty applications
· Wedge style, angled for extra wheel and spring clearance
· Open top for ball-end accessibility
· 36 pieces included for complete rebuilds
JConcepts – Ball-cup assortment – Rib and Wedge – 36pc
Part # – 2181
UPC Code – 845937008961
Retail price – $14.00
(Fits – B4, T4, B44, SC10, SC10B)