JConcepts INS 13.5 4wd Champion Douglas Hobbs Interview
Winning any race is hard enough as it is, but becoming the JConcepts Indoor National Series overall champion can be a challenge of epic proportion as it takes skill, commitment, dedication, and the ability to adapt on multiple surfaces across America. After 6 years, the INS has become the most successful off-road series in the United States with numerous regional champions, national champions, and multiple world champions in attendance raising the level of competition.
Shining in the 13.5 4wd class, Northwest native racer Douglas Hobbs, participated in 3 of the 5 events and went on to win the class as well as placing 2nd in the super competitive 17.5 Expert Stock class. With the results and experience acquired through the series and over the years, Douglas was just picked up by Xray R/C America for 2017! Check out the interview with the NW fast guy!
Please introduce yourself…. Name, years racing, team/sponsors, and hometrack.

Hello! My name is Douglas Hobbs! I have been racing for 3 years and after completing the INS, I earned a spot on the Xray R/C America team. My other sponsors are JConcepts, Maclan, Xpert, Cheater Racing, and RC/MX. My home track is Tacoma R/C Raceway which is a tight, high-grip indoor clay track.
Tell us about your INS experiences…….. What made you decide to participate in at least 3 of the 5 nationwide races? Which races did you attend?

I started the year off by just going to the local JConcepts INS race at my home track and I raced my two most prominent classes at the time, 2wd 17.5 Buggy and 4wd 13.5 Buggy. I felt since it was my home track …… I could at least bump to the A, yet my cars were amazing throughout the whole weekend (thanks to great tires and my awesome father), I ended up putting myself on the podium in both classes along with a TQ in 13.5 4wd. After this showing, my dad ended up buying tickets and booking a hotel to attend the Summer Indoor Nats in Chico, California. I had attended this race previously in 2015 and loved the track. However, I was close to canceling the trip after my mom had surgery to remove stage 3 colorectal cancer only 2 days before we were scheduled to leave. Thanks to her strength, we were able to go and I got to experience the last race ever on my favorite track outside of TRCR. I ended up winning the 4wd 13.5 Buggy class thanks to all the support, but felt a little bit overwhelmed in 2wd 17.5 Buggy as the two A Mains were back-to-back and unfortunately fell to 7th. The best part is that we made it home to escort my mom from the hospital right after we got off the plane. We then traveled to North Carolina instead of Boston because we both had never been. In which I got to meet some of my favorite Nascar and other motorsport drivers. All in all it was a very fun facility, and I finished 5th in both 2wd 17.5 Buggy and 4wd 13.5 Buggy, giving me 2nd overall in 2wd 17.5 Buggy and 1st in the 4wd 13.5 Buggy class!
What was your results in the races you attended (for the class(es) you prevailed as overall Champion)?

In 4wd 13.5 Buggy, I had won the overall by finishing 2nd at the Spring Indoor Nats, 1st at the Summer Indoor Nats, and 5th at the Finale.
What were some of the challenges you faced and how did you overcome them? Any secrets to your success?
A challenge that I faced was that I was literally across the country for the Finale, and was on a completely new surface. I ended up googling other similar tracks and finding a setup to run from a similar clay.
Could you talk about your best memory from the series, your favorite battle on the track, or who your toughest competitor was during the series?
I think my best memory from the series was my year-long battle in 17.5 2wd Buggy with fellow JConcepts driver (and local Tacoma racer) Shane Borden, who was very classy and fun to drive with. He was my toughest competitor, and ended up winning the class, but did so with respect to not only other drivers but all racers in the hobby. Fun times!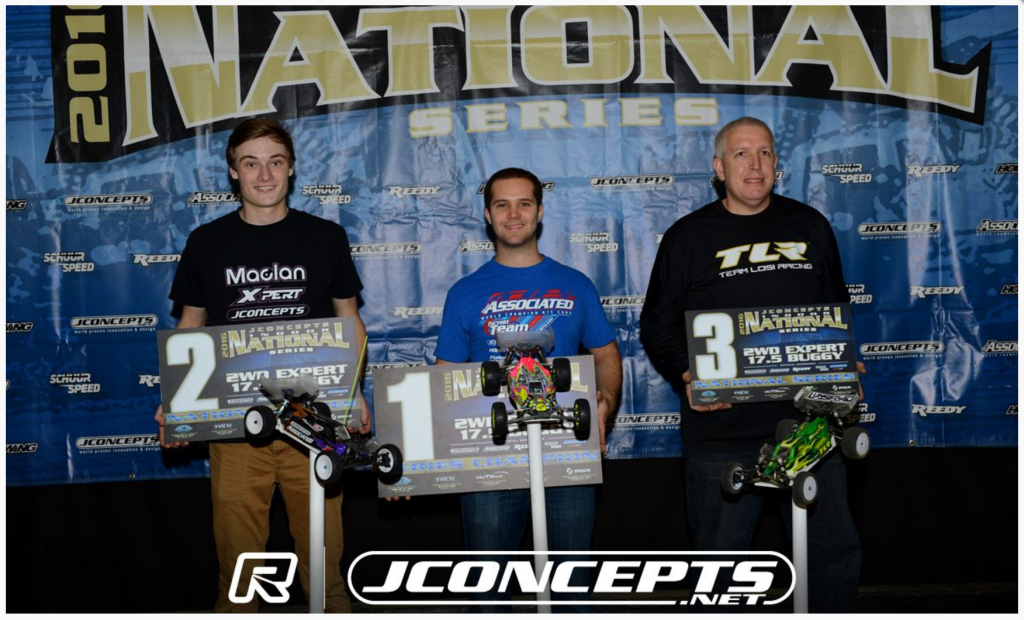 What JConcepts products did you use and what's your favorite JConcepts product to date?
For the Spring, Summer, and Finale race, my 2wd 17.5 Buggy and 4wd 13.5 Buggy were fitted with JConcepts 2.2″ Gold Dirt Webs mounted on JConcepts 2.2″ White Mono wheels and dialed on JConcepts Silencer Bodies. For the actual 'racing' at the Summer race, I opted instead to use JConcepts 60mm Gold Smoothies, mounted on JConcepts 60mm White Mono Wheels.
I think that the Dirt Web is the best JConcepts product to date because it performs amazingly in nearly all conditions.
For other drivers that are on the fence about attending the JConcepts Indoor National Series in the future, what advice would you give them as a series champion?
Don't be afraid to go out and talk to other drivers! I couldn't have done anything without the help of drivers like Spencer Rivkin, Brent Thielke, Thomas Tran, and Kyle Layton. Anything I needed clarification on, I no longer need because of the assistance given by these guys and they were more than happy to help anyone in need. Of course, they would not have been able to talk to without this awesome JConcepts series.
Who would you like to thank?
I would like to personally send thanks to all the sponsors who supported me through this journey. Also my dad for not only providing the financial support for this to happen, but also all the support on and off the track and most of all, my amazing mom for beating cancer over the course of 2016.
Congratulations to Douglas and thanks for being a part of the JConcepts team! Best of luck in 2017!