JConcepts Indoor National Series – Recap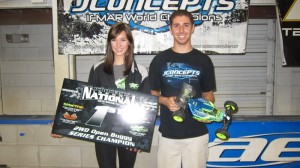 I was fortunate enough to be able to attend rounds 2 through 4 of the first ever JConcepts Indoor National Series. After winning the 2nd Round at OC/RC Raceway in both 2wd Modified Buggy and 4wd Modified Buggy I was hooked on doing the rest of this series.

My first out of town stop was at A-Main Hobbies In Chico, Ca. I was looking forward to arriving at the airport and meeting up with my fellow teammates Brent Thielke, Tanner Denney, Steven Hartson and Jason Rouna. I had never been to A-main Hobbies before and had no idea what to expect but was excited about it. Practice on Friday we all started with JConcepts Bar Code tires in Gold compound for each class but about halfway through the day we noticed how much grip the track was getting and started to notice that some locals were running "slicks". About an hour later we were all covered in black rubber shavings with Slick tires on our cars! It was really tricky only having half a day to make the right adjustments to our cars and driving for the Slick tires. There was so much traction that if you turned your wheel slightly too fast you were flipping off the track! Qualifying went decent and I was able to qualify in the top 5 for each of my classes. The 10 minute single A-mains for each class was a handful to hold onto but after a long battle with about 4 different drivers I was able to take the win in the 4wd modified class and finish 3rd in the 2wd modified class.
Next came Boston! Somewhere else that I had never been before but have wanted to go to ever since becoming a Boston Celtics fan! I was more excited about going to this race than any other before. Once again I met up with my teammates at the Airport and this time went straight the to the track to check out TLR's Dustin Evans who had been practicing that day. Arriving at the track and getting to watch some practice laps by some locals it was easy to tell where the trouble was going to be on the track. There was a giant "5 Pack" jump section that was very tricky to do every lap. This time we ran JConcepts Bar Code tires in Blue compound front and rear in the 2wd and 4wd Classes. In qualifying it was hard to match the speed of National Champion Dustin Evans in 2wd and I was able to qualify 2nd behind him. In the 4wd class I was having a a very hard time, I had very bad luck in my first two qualifiers but was able to go out in the 3rd round and TQ. That alone wasnt enough to put me in the A-Main so I started in the back of the B-main with the chance to bump up. I was able to bump in 4wd and after a long fought 10 minute race able to get into the 3rd spot which is where I finished. Starting 2nd in 2wd I was able to finish 2nd behind Dustin Evans. All in all Locking in the overall JC National Championship in the 2wd Modified Class and 2nd Overall in the 4wd Class. The next day in Boston was all about sightseeing for me! Getting to see and go inside the TD Gardens where the Boston Celtics play!
I would like to thank Jason Rouna and Brent Thielke for all the support and making all of this possible for me! I look forward to the Next JC Indoor National series in 2012!