JConcepts Finish Line Hoodie Apparel
The goal in any motorsport is to make it to the Finish Line, with the new JConcepts hoodie sweatshirt, you can look good doing it. Fresh for the new season of racing, JConcepts drops the latest shield racing logo on the fastest looking sweatshirt yet. The angled and distressed checkerboard design in the background represents the finish line and for any racer, getting across first is what matters. The new JConcepts logo pops with authority and with a racers lightning bolt separating the artwork, speed and quickness are always at the forefront of this design.
JConcepts, established in 2003, is truly World Proven Innovation and Design.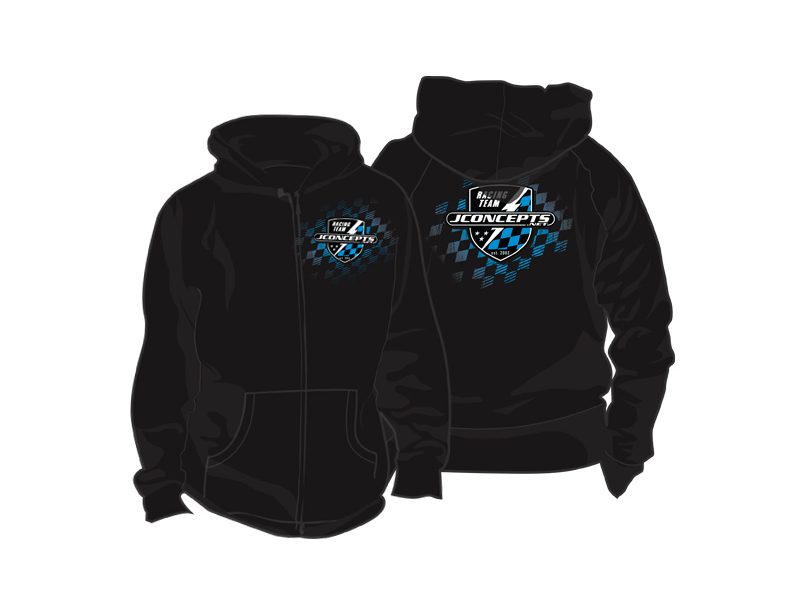 Features:
· Stealth black, hoodie sweatshirt
· Finish line inspired design
· Racers lightning bolt shield logo
JConcepts Finish Line hoodie sweatshirt – medium
Part# 2728M
UPC Code – 845937020826
Retail price – $62.00
Map price – $52.70
JConcepts Finish Line hoodie sweatshirt – large
Part# 2728L
UPC Code – 845937020833
Retail price – $62.00
Map price – $52.70
JConcepts Finish Line hoodie sweatshirt – X-large
Part# 2728XL
UPC Code – 845937020840
Retail price – $64.00
Map price – $54.40
JConcepts Finish Line hoodie sweatshirt – XX-large
Part# 2728XXL
UPC Code – 845937020857
Retail price – $65.00
Map price – $55.25
JConcepts Finish Line hoodie sweatshirt – XXX-large
Part# 2728XXXL
UPC Code – 845937020864
Retail price – $65.00
Map price – $55.25