JConcepts Fall Indoor Nationals Series – Classic in the Making!
For 2019, there was a massive schedule change to the Fall INS. From Boston to Detroit, the race was relocated to an all-new venue just outside of Detroit, in Warren, Michigan. For quite some time now, we've heard of a wonderful track called the RC Clubhouse and when the chance arose to find a new host track for the Fall INS, it was a hands-down no brainer. We were looking forward to this.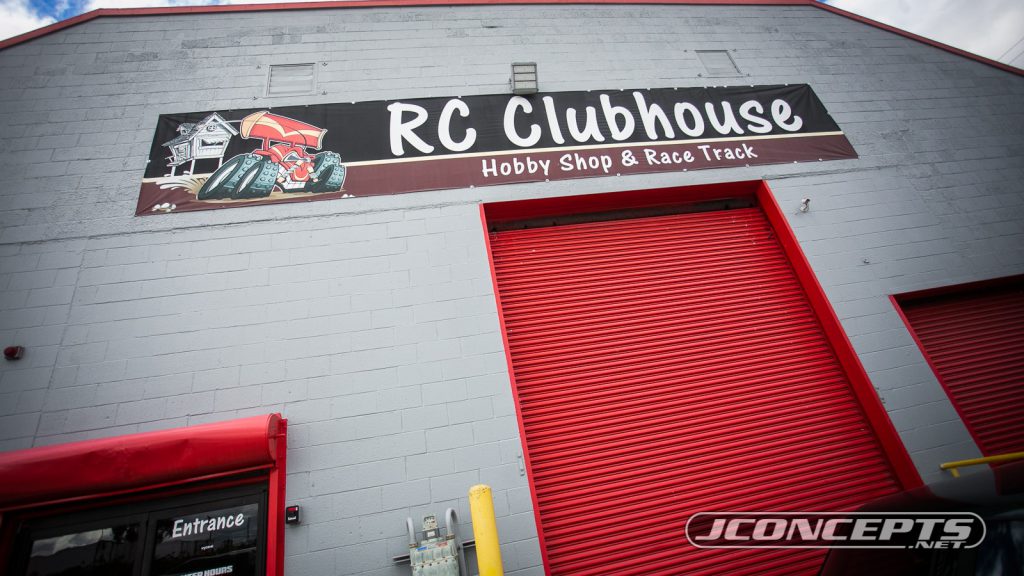 Detriot has a long history in RC racing including playing host to the 1991 IFMAR World Championships in which our RC legend, Masami Hirosaka, won the 2wd Mod class with his Team Associated RC10. You know, with probably RC's most famous 2wd of all time, the 91 Worlds RC10 Stealth Prototype. During the 4wd portion of the World Championships, the other famous RC legend, Cliff Lett, took the Yokomo YZ-10 Super Dog Fighter Works '91 to the top in 4wd Modified. Now, those names and those cars are forever a part of RC history, but those days are far in the past. The question is now… what about Detroit's RC future?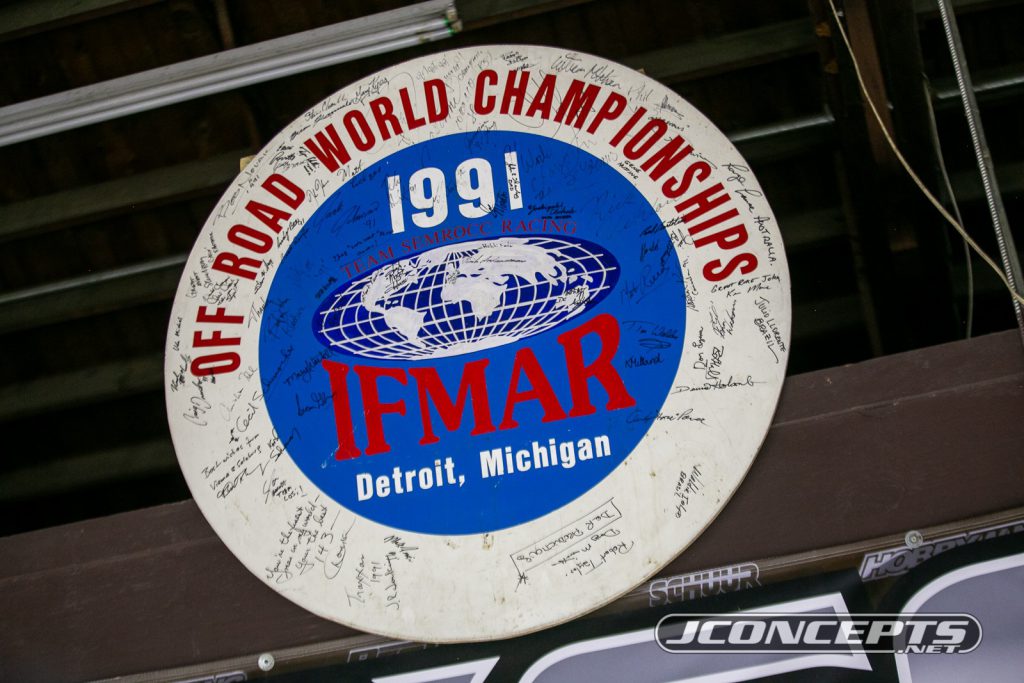 It's been a long time coming and finally, a nationally acclaimed 1/10th Off-road race has found its way back to Michigan bringing with it some of the best drivers in the world including a World Champion, National Champions, and Regional Champions. By having such a stacked field of drivers gives the local racers a chance to experience a high level of competition they typically can't find at their club races. With more big events, the region will only get faster and perhaps someday we'll see a world champion that hails from Michigan.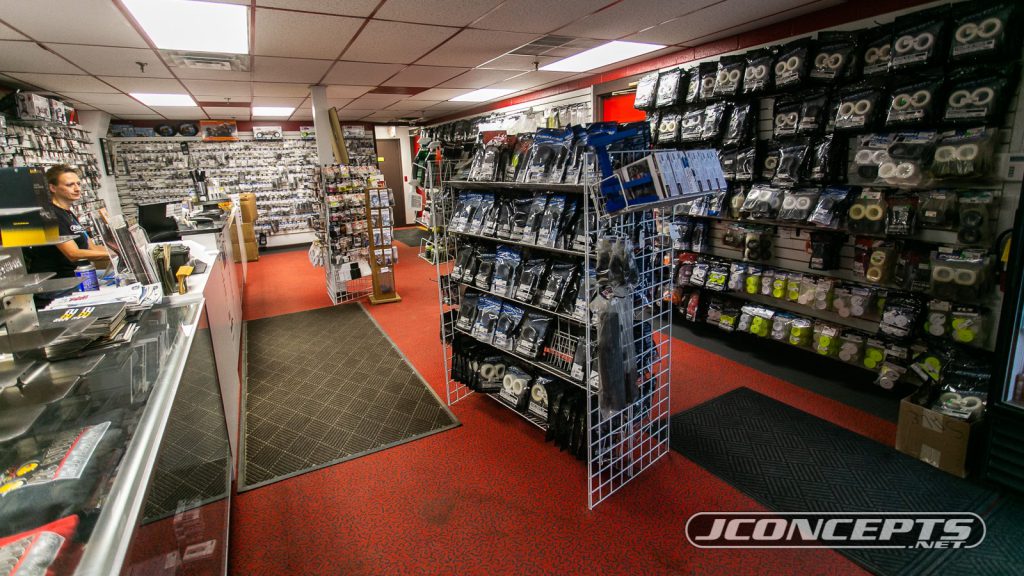 The RC Clubhouse didn't disappoint. The facility is extra clean, it's professional, and the hobby shop and track are top-notch. What's really nice about the RC Clubhouse is the vibe, which was laid back and refreshingly friendly. Regardless of the race results, it was going to be a kick-ass time knowing we were in great company.
With open practice scheduled from 9am on Friday to 5pm, it was important to familiarize yourself with the dirt and how to properly set up your car to be extra comfortable in order to manage the tricky surface. Tire choice for most everyone was a slick tire of some sort, however, diverge from the main racing line and it spin city.

The layout was very challenging and required a lot of low-speed steering as well as high-speed stability, which usually doesn't go hand in hand. From the above photo, the track looks relatively easy and flat, however, the track had a twisting personality that featured a lot of off-camber turns that induced cars to flip off the track. Many racers commented that they had to try hard to not overdrive their cars. Despite the tough conditions, this pushed drivers to extend past their comfort levels and really challenge themselves to get good results and it was awesome to watch.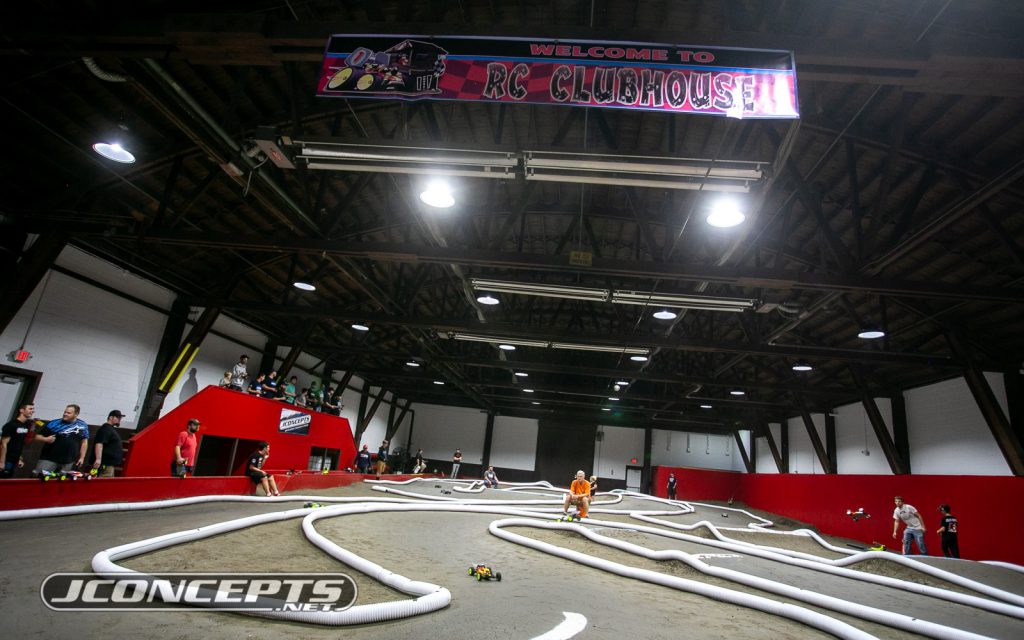 We can't thank Bill and Melissa enough for the wonderful welcome and for all of the hard work that goes on behind the scenes. The program was flawless and the weekend was extremely fun. Let's not forget that fun is a vital part of the RC racing experience and the RC Clubhouse illustrated this perfectly and we're glad to have the RC Clubhouse a part of the JConcepts Indoor National Series!
21.5 Independent Spec 2wd
Once again it was Lee Conley taking top honors in the Hobbywing present 21.5 Independent Spec Motor class. Lee has made a few of the 21.5 INS and NCTS races as a privateer and has always been in contention for the win. To no surprise, it was tough to deny Lee for the win as he went head to head with Alston Kelso for the win. Only by just .58 seconds, Lee crossed the line in 1st with Alston closely behind in 2nd. Rob Wheeler cleared the rest of the pack to finish 3rd overall.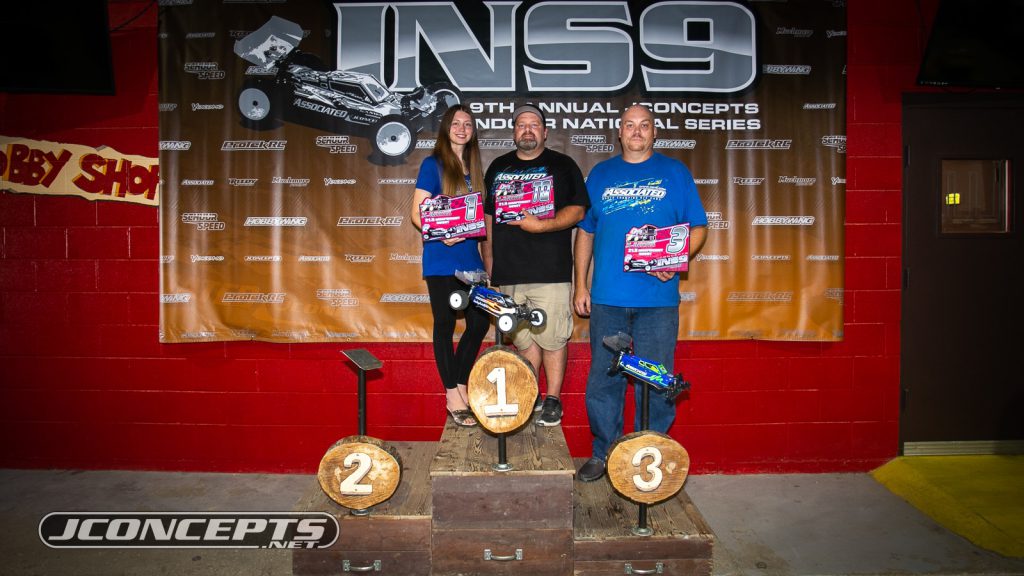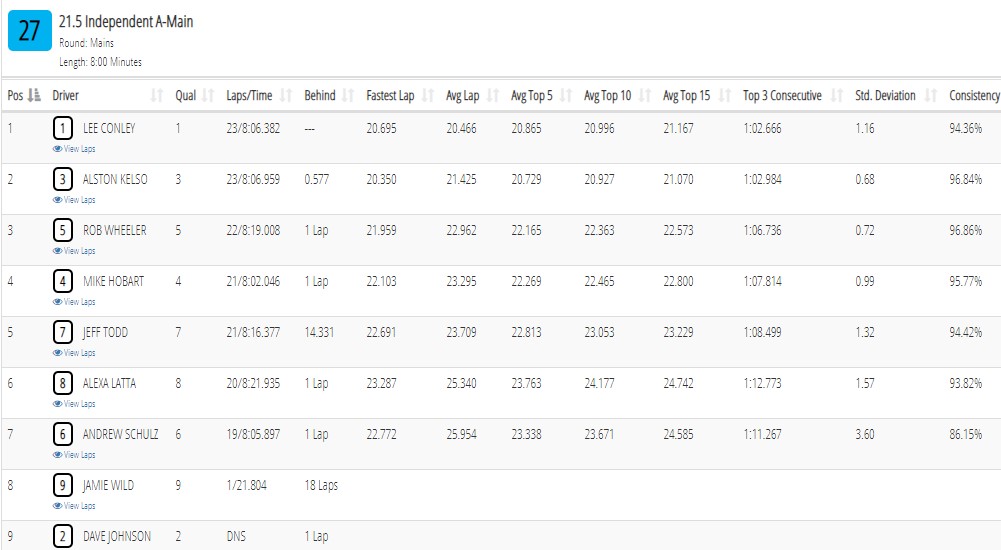 17.5 Stock 2wd
Making his mark as one of the best stock drivers in the nation, Trinity's Andrew Knapp was on point in the 17.5 Stock 2wd class as he battled Austin Weiland early on, but stayed strong under pressure to earn himself a clear victory. Austin Weiland definitely has speed potential, but a few mistakes late in the race found Austin finishing comfortably in 2nd. Trinity's Brad Prenger put together a terrific 8 minute A Final to see the Michigan native grab the final podium spot.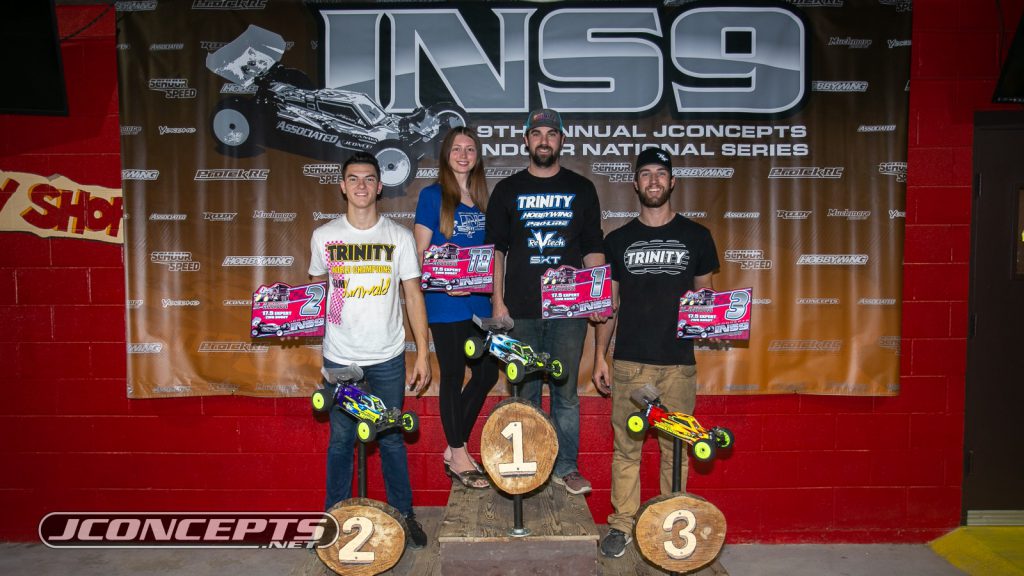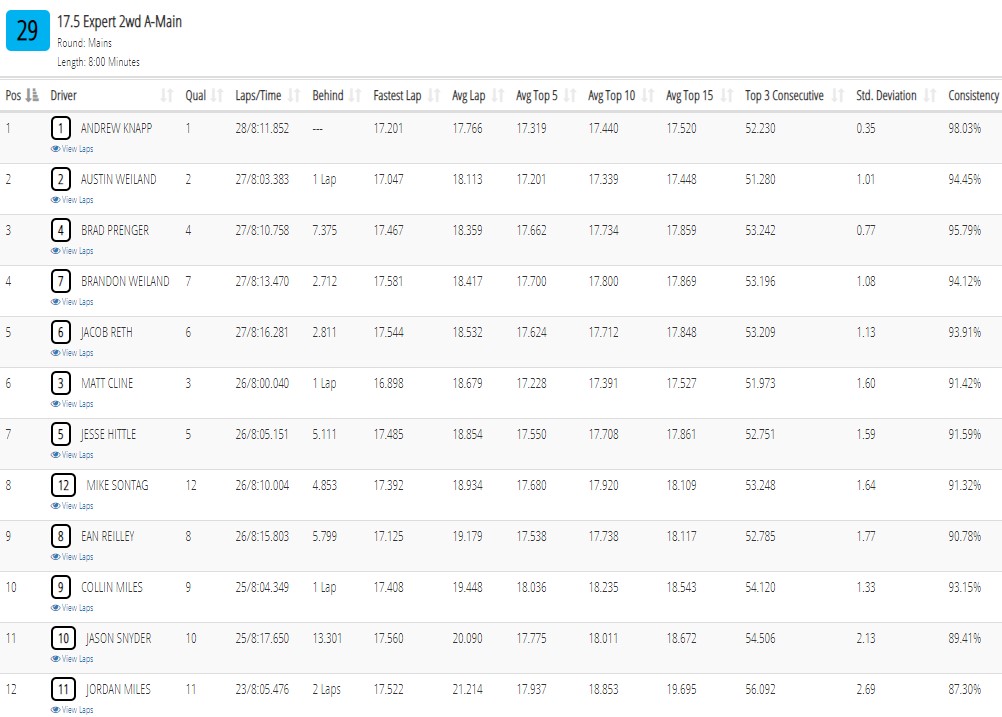 13.5 2wd Short Course
It was battle to the very end in the exciting 13.5 SCT A main as AE's Kris Norlock and AE/JConcepts' Adam Rayls brought out the best in each other. Taking the lead on the last lap, Kris put in a remarkable effort coming from 6th on the grid. Adam finished in 2nd with AE's Mike Ciresi taking home 3rd place honors.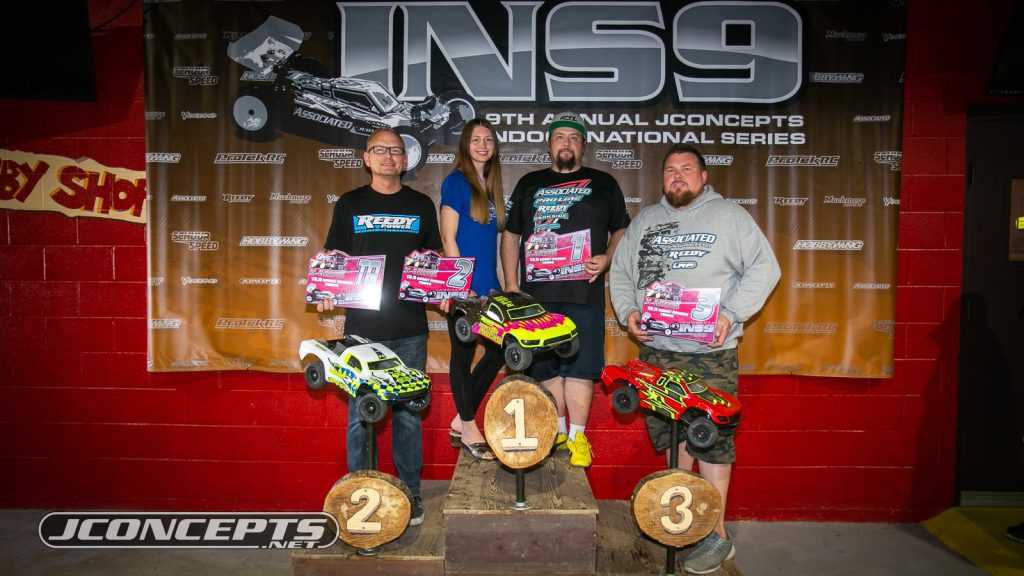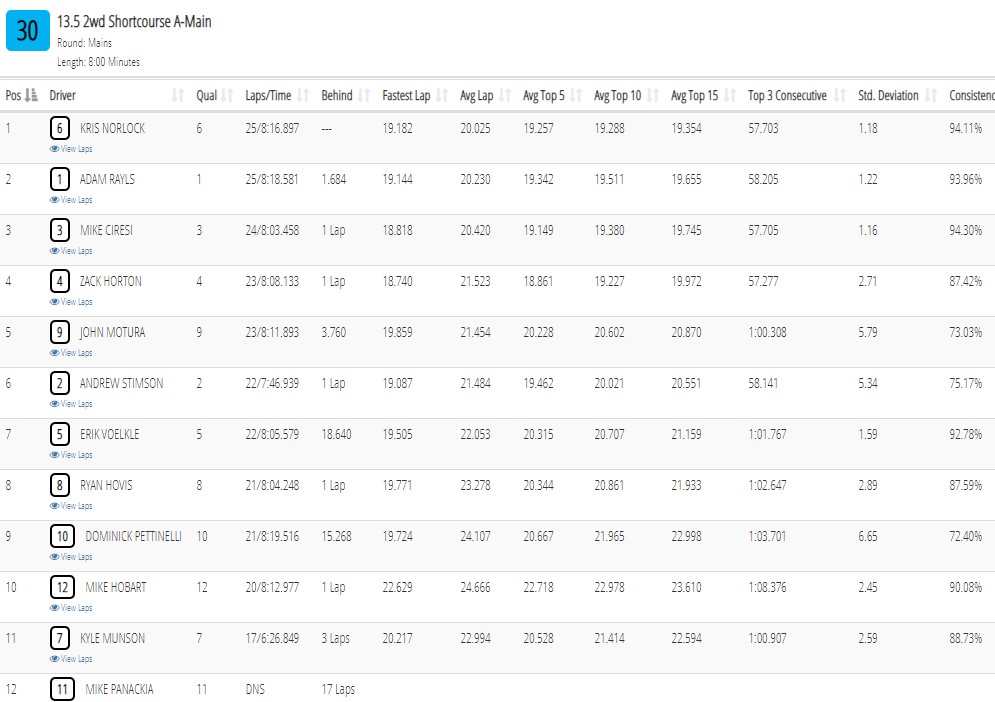 13.5 Stadium Truck
Too fast to be denied, Austin Weiland put on a masterclass show in the grueling 8 minute A-Main to capture the overall win in 13.5 Stadium Truck. AE/JConcepts' Russ Bryant delivered an amazing effort to lock up the 2nd place spot as he showed his versatility as a driver that's capable of running in the front of 1/10th race cars and Monster Trucks. AE/JConcepts' Austin Wick took the time out of a busy school schedule and made an appearance at the Fall INS9 and finished respectably in 3rd.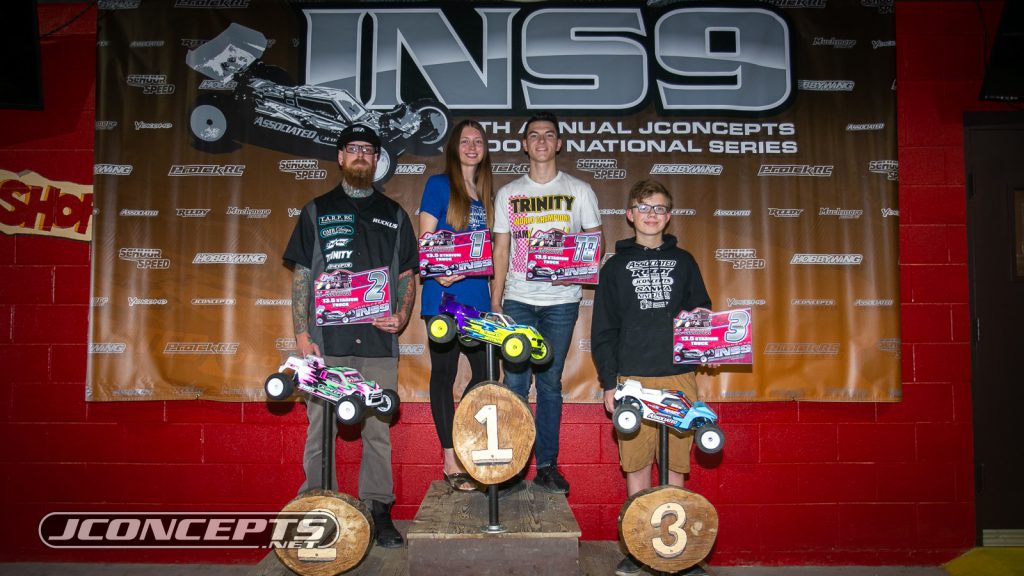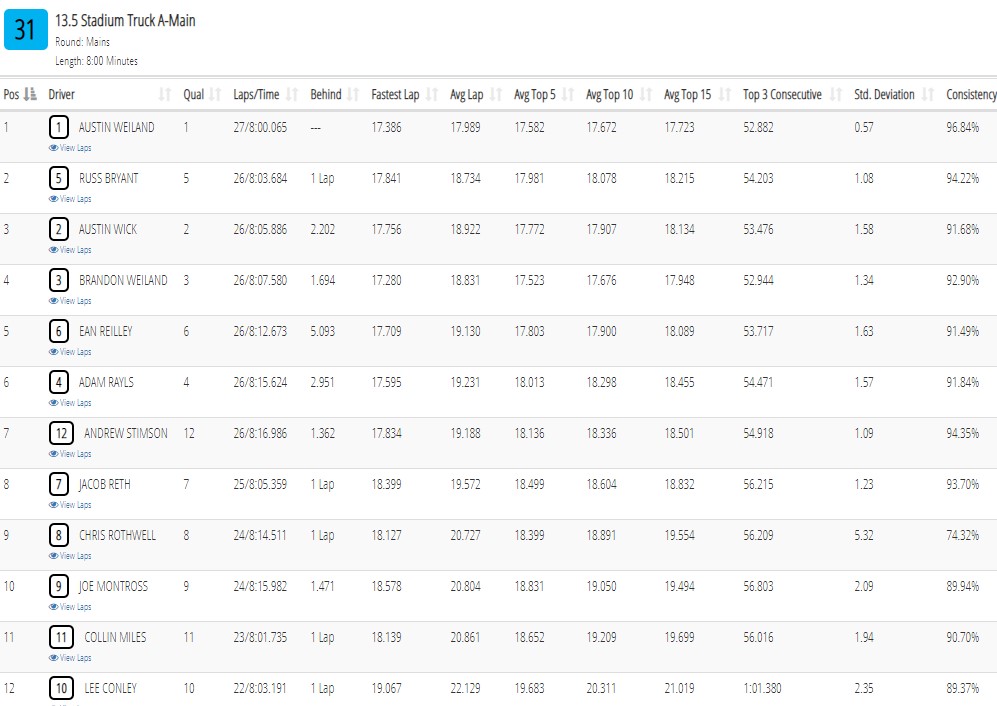 4×4 Mini Truggy
Congrats to Kevin Siller as he took home the 1st place prize in the 4×4 Mini Truggy class. His speed was too great and it scared the competition away.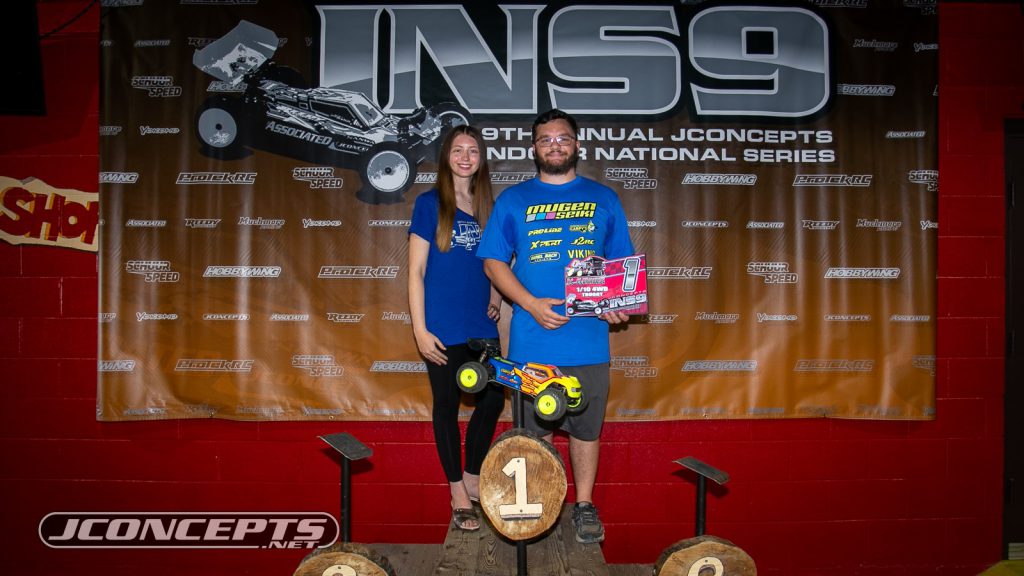 13.5 4wd
Once again, much like in 17.5 2wd, Trinity's Andrew Knapp had the winning pace and was able to convert another spectacular drive into his 2nd win of the weekend with a 1st place finish in 13.5 4wd. Definitely a future contender, Austin Weiland is making a name for himself with some terrific podium finishes, as he finished 2nd overall. Yokomo's Jacob Reth was definitely mighty during the 8 minute main as he was able to secure 3rd place with smooth, consistent driving.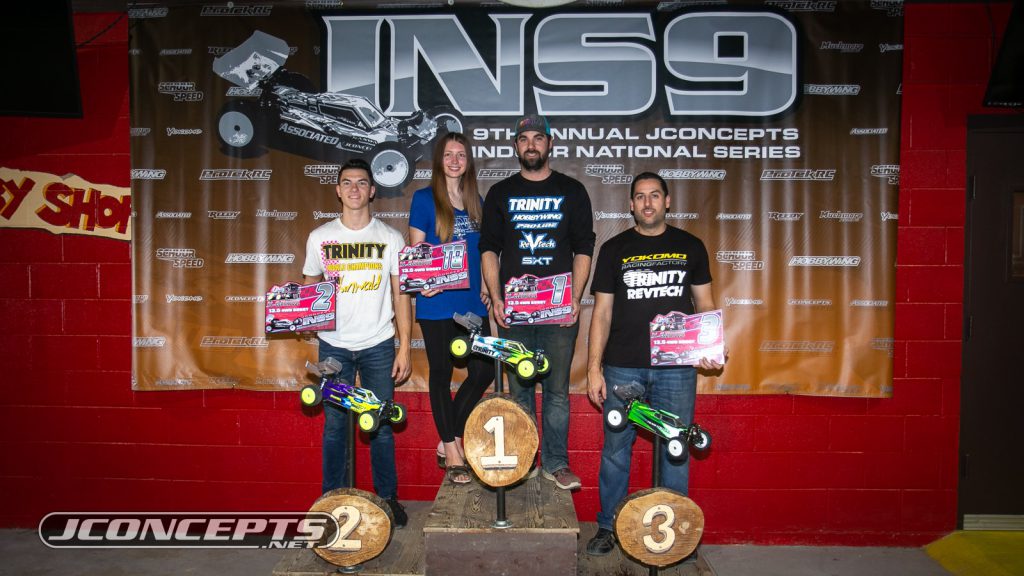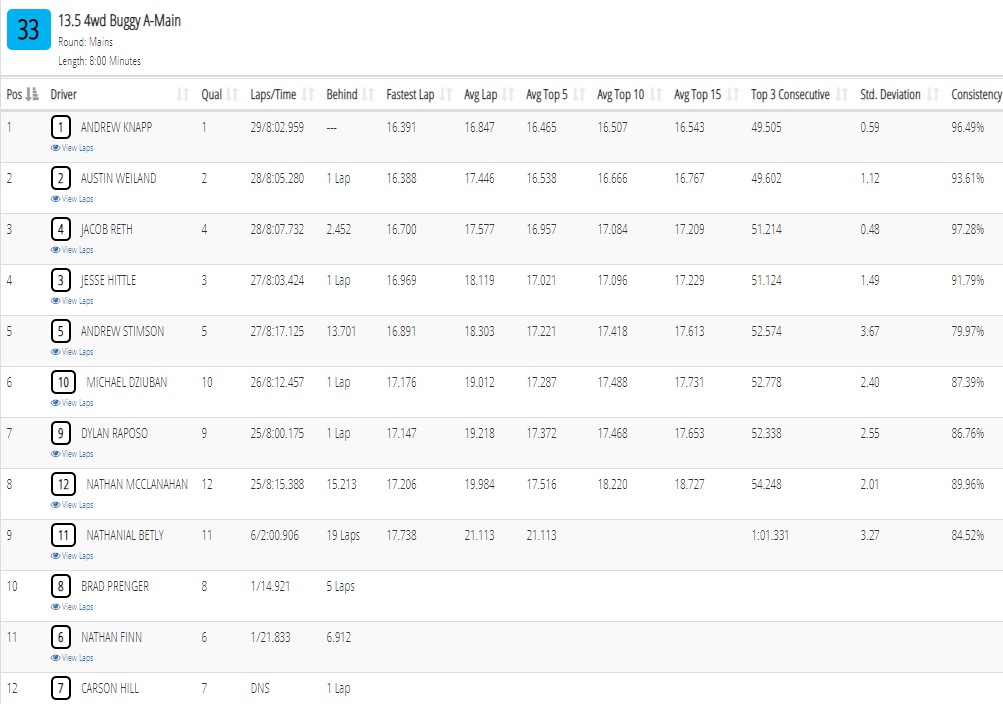 40+ 2wd Modified
Doing what he does best in the 40+ 2wd Modified class, Brent Thielke laid it down putting the field down 2 laps and took a convincing win for the 40+ King. Runner up to BT was TLR's Mike Sontag. Mike showed increased speed throughout the weekend and clearly separated himself from the rest of the field to finish 2nd. Mike Gibson was comfortable and composed during the 8-minute final that eventually saw the classy red, white, and blue body of Mike's finishing 3rd overall.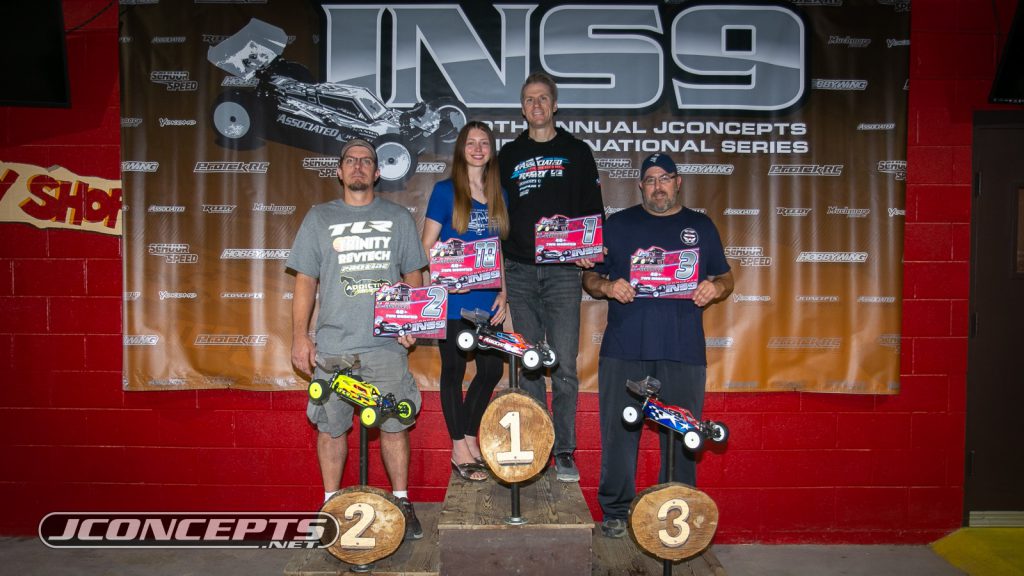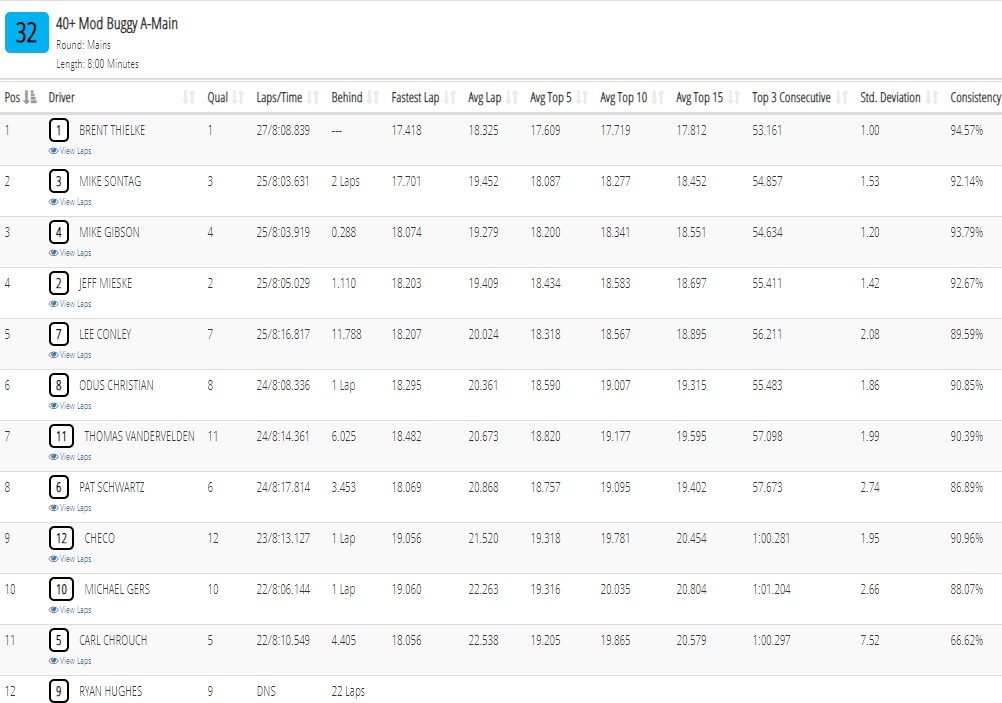 2wd Modified
Nearly flawless throughout the weekend, TLR's Dakotah Phend definitely was the driver of the weekend completing it with a gutsy win in A1 against the reigning WC, Spencer Rivkin. Having qualified 4th on the grid, A2's start didn't allow Spencer a chance to battle Phend for the win and saw Phend win A2 and the overall. Spencer definitely had the pace, but with two 2nd's as his best scores landed Spencer 2nd overall. Meanwhile, AE/JConcepts' Cole Tollard finished remarkably well placing himself 3rd overall despite getting bad starts in each of his mains.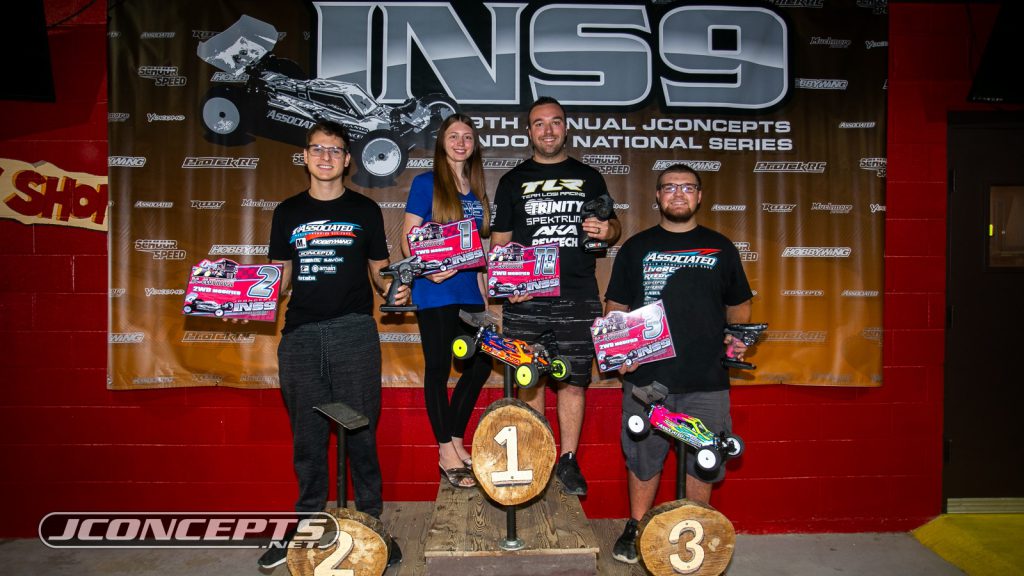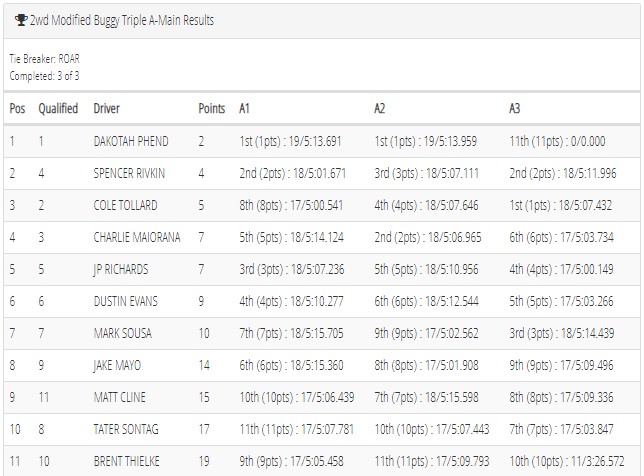 4wd Modified
The IFMAR 4wd Vice-Champion was going to be hard to beat, especially on home soil. With the prototype TLR 4wd, Dakotah rocked it again but this time at the Fall INS9. With a perfect effort in qualiyfing, Dakotah messed up A1 allowing AE's Dustin Evans to take the win. Bouncing back like it never happened, Dakotah was on form in A2 and A3 to decisively win the overall. Evans finished 2nd with Wisconsin's own, Cole Tollard wrapping up the final spot on the podium.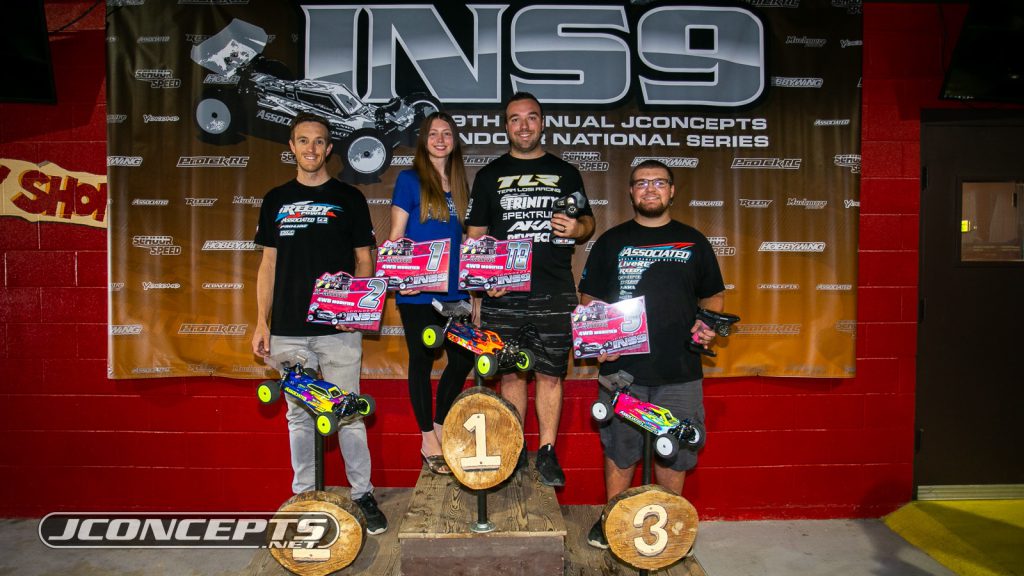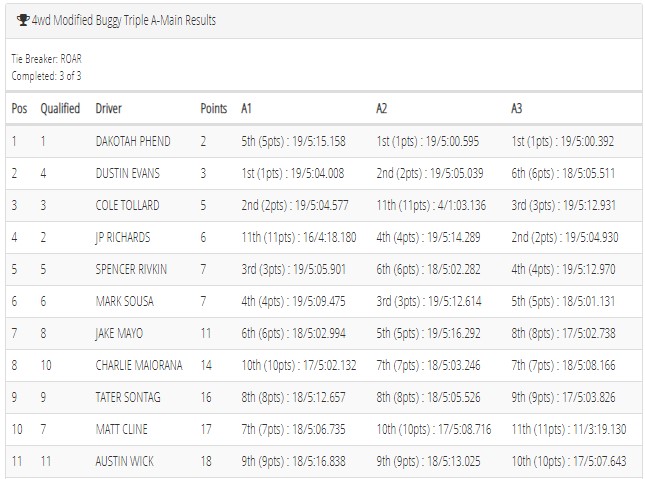 Extra Interview with Team Associated/JConcepts' Adam Rayls! Check it out!
Check out this great sit down interview with JConcepts Inc / Team Associated's Adam Rayls as he's made many appearances at the JConcepts INS events over the years and has found ways to have fun while still being competitive. #gojconcepts

Posted by JConcepts Inc on Sunday, October 6, 2019
A1 of 2wd Modified
Q3 of 4wd!! Let's light the tires!!

Posted by JConcepts Inc on Saturday, October 5, 2019
A1 of 4wd Modified
A1 of 4wd Modified, get ready!

Posted by JConcepts Inc on Sunday, October 6, 2019
A2 of 2wd Modified
A2 of 2wd Modified! Let's go!!

Posted by JConcepts Inc on Sunday, October 6, 2019
A2 of 4wd Modified
A2 4wd Modified clean or chaos?! Lol

Posted by JConcepts Inc on Sunday, October 6, 2019
A3 of 2wd Modified
A3 of 2wd! Time to hammer down!!

Posted by JConcepts Inc on Sunday, October 6, 2019
A3 of 4wd
13.5 Amain and A3 of 4wd!!

Posted by JConcepts Inc on Sunday, October 6, 2019