JConcepts Fall Indoor National
Daimon Borkowicz, Max Flurer, and John Cravotta win at round four of the JConcepts Indoor National Series
Last Thursday Daimon Borkowicz and I made the trip north to Boston, Massachusetts. After picking up JConcepts teammate, Frank Root, we made the trip NW to Fitchburg. This was my third trip to R/C Excitement and this one was the largest events with close to 400 entries; this year's racing was just as good as previous years.
Friday, doors opened early and most of the team started off with similar tire set up from past races. This consisted of green or blue Dirt Webs out back slightly bald in the center with pins showing on the inside and outside of the tire. After giving this a couple runs we decided to give green JConcepts Smoothies a try and we were on these for the rest of the race. The track was different in other ways, such as the layout; this year's race had the fastest layout we have seen. It consisted of full front straightaway with a full back straightaway and a haymaker triple jump for the modified classes. Seeding took place Friday evening with some drivers already finding themselves bitten by the haymaker, which gave them a little extra work to do in qualifying.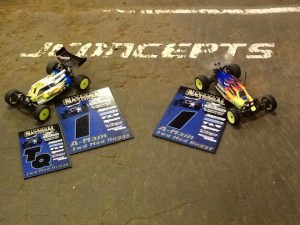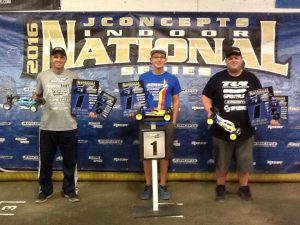 Saturday morning it was off to the track after a quick stop at DD for a Boston cream donut. Qualifying went smooth on our JConcepts green Smoothies, which placed all the fast guys in the top 7 or 8 spots in the mains. JConcepts/TLR driver Max Flurer, had the best starting spots by TQing the 4wd mod class and a second starting spot in 2wd mod and truck mod. Later that evening we had a small watch party at the track to root on our JConcepts teammates at the iFMAR Worlds in Vegas.
Sunday Main day was a long waiting game as almost every lower main needed to be run before all the A mains because of bump-ups. 4wd mod class saw the dominance by Max continue as he won A1 and A2 which gave him the overall win with his JConcepts green Smoothies. 2wd mod saw Team Associted/JConcepts driver, Daimon Borkowicz, come from the third starting spot on the grid to win A1 and A2, which gave him the overall win in this class once again on JConcepts green Smoothies. John Cravotta took his JConcepts equipped ride to the win in the single A main of the 13.5 4wd class.
So once again we had a great event put on by R/C Excitement! Todd, Chrissy, Ed and the whole crew put on a great event and have a great facility to have unbelievable events like this one.
Till the next race
– JR Mitch
Check out more photos here.