JConcepts Clash – Practice Day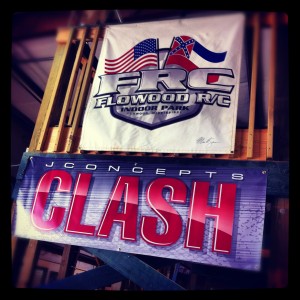 Things are getting started here in beautiful Flowood Mississippi. The weather couldn't be nicer, not a cloud in the sky, low 70's, can't beat it.
Drivers started arriving early today and hitting the freshly built track around 9am Central time. We have been running one hour sessions starting it off with 1:8th scale then alternating to 1:10th scale.
We'll be running until 10pm tonight, qualifying begins at 10am tomorrow morning. Don't forget to check our Facebook page for live streaming throughout the event and we also will be broadcasting on LiveRC.com. RedRC.net is here so check out their blog for some great photos and more.
The JConcepts Clash is in it's 6th year and this is the first time the event is being held outside Florida. The facility here in Flowood can't be beat and the hospitilaty from Bubba and his crew is second to none.
More updates during qualifying tomorrow, stay tuned!!
Also check out the RedRC.net photo album, updated throughout the event.