JConcepts Clash – Main Day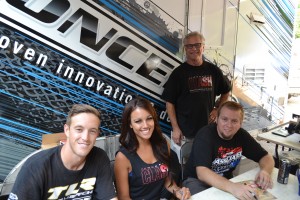 It is Main Day here in Flowood, Mississippi for the 2013 JConcepts Clash. The Clash between Dustin Evans and Ryan Maifield is heating up. Dustin has the overall TQ in the Mod 2wd Buggy class while Ryan is sitting in the top spot in 4wd Mod Buggy. JR Mitch holds the third spot behind Maifield in 2wd Mod Buggy and Cody Hollis sits third behind Evans in 4wd mod buggy.
In the other mod classes, Ryan Maifield has the pole position in 2wd Mod Short Course with Evans sitting second and Paul Wynn holding the third spot. Mod Truck was all Cody Hollis, the TLR/JConcepts Driver topped all four rounds of qualifying to take the TQ spot with Leon Macintosh holding the second spot.

The largest class at this years Clash, e-Buggy, JR Mitch holds onto the TQ spot despite a bad final qualifier, JR will also start on pole in 4WD Short Course. In Expert 1:8 Nitro Buggy young TLR driver Tyler Jones took the 4th qualifier over Jake Dellinger to secure pole position for the 30-minute A-Main ahead of Dellinger's Associated with Max Flurer securing third.
It's going to be an exciting Main day here in Flowood, be sure to follow the action on LiveRC, for in depth reports, videos and photos check out RedRC throughout the day and on the JConcepts Facebook pages.