JConcepts Clash – Ironman Challenge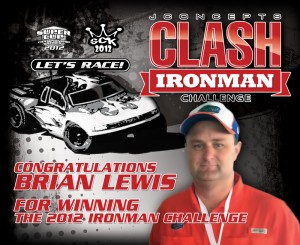 Congratulations goes out to Brian Lewis – the big winner of the JConcepts Ironman Challenge. Lewis competed in both the Super Cup Championship Series and the Short Course King Series to win the Grand Prize.
He accumulated the most points between the two series to win a trip to the 2012 JConcepts Indoor Clash. JConcepts supports RC racing on the local level as much as on a National level. JConcepts is passionate about RC and special events relative to radio control racing.

The 6th Annual JConcepts Clash is one week away, September 21-23, this annual event draws racers from multiple states as well as internationally. Past drivers in attendance has included Ryan Maifield, Ryan Cavalieri, Jared Tebo, Lee Martin, Paul Bradby, Jorn Nueman, Hupo Honigl, Steven Hartson, JR Mitch, Tony Truman, Jason Ruona, Paul Wynn and Tanner Denney to name a few.
The Clash combines the best of both worlds, where drivers can race nitro and electric on the same weekend. Watch your favorite drivers battle it out!
With only one week to go we already have over 470 entries! Follow all the action live at LiveRC.com, RedRc.net or follow us on Facebook.