JConcepts At The Short Course Showdown In Vegas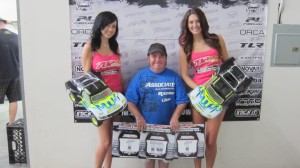 Brian Kinwald Doubles Down in Vegas at the Short Course Showdown Nationwide Tour.
Event: Short Course Showdown Nationwide Tour #6
Date: September 14-15, 2012
Track: 702 Race Way – Las Vegas
Race Reporter: Dave Duncan
Race #6 of the tour is at the 702 Raceway in beautiful Vegas. Just a few blocks off the main vegas boulevard. This place is indoors and very nice. Lots of nice pit areas. No need to bring your own table and chairs. All are here waiting for you to come race.

The weekend started with a fresh layout just for the Showdown. The local racers here had an open track all day Wednesday to get the new layout run in. They also had practice Thursday and a club race that night with all classes. I showed up late Thursday night just in time to drop off my race gear as they closed the doors for the night.
Friday morning started at 10am for a full day till 8pm of practice only for the short course trucks. The day went well as the track crew worked hard at keeping the track nice, swept and watered all day. The track started to get really good by the close of the day.
Saturday started with an hour of open practice and round 1 of qualifying at 9am. The rounds went really smooth and we got 3 full rounds in by 9pm. JConcepts was TQ in both 2wd and 4wd mod. After the 3 rounds.
Sunday started with 1 more round of final qualifying #4. As the round ended, JConcepts team driver Brian Kinwald was TQ in 2wd mod and team driver Billy Fischer was TQ in 4wd mod.
The mains were on the way around 1pm. Mod 2wd main started with BK on the point. The A mains are extended mains of 7 mins long each. From the start tone till the final buzzer. BK never lost the lead and never looked back by taking the win! JConcepts team driver Scott Brown right on his rear bumper the whole race finishing 2nd. Mod A main 4wd started with Billy on the point. Start tone rang and the race was on. Billy ran strong and started to pull away from the field with Scott Brown right behind. At around the 6 1/2 min mark. Scott and Billy got tangled a few turns before the back stretch. With all this mayhem (BK was still not far behind in 4th place) Brian got a free pass to the front of the field. With only 1 lap left. Brian Kinwald takes the win in 4wd mod too!!
Brian Kinwald had a great weekend with all being said with the Double Down in Vegas with both mod sc class wins!! The track crew and owner of 702 did and awesome job all weekend for a perfect track. Thanks again guys!! Hope to see everyone next year too!