JConcepts and Ryan Maifield Take ROAR National Championships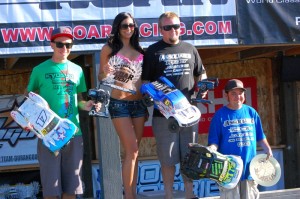 Event: 2011 ROAR 1/10th Electric Off-Road Nationals
Date: August 12-14 , 2011
Location: NorCal Hobbies – Union City, CA
JConcepts SCT Hi-Flow body and Hazard wheel debuts victoriously. Ryan Maifield takes 2nd consecutive ROAR National Championships in Short Course Modified for JConcepts.
NorCal Hobbies in Union City, CA, provided the setting for the 2011 ROAR Off-Road Nationals. A beautiful track layout by Kevin Jelich and the NorCal crew was in place and ready for Wednesday's open practice session. Elevation changes throughout made for one of the most brilliant and fluid experiences a racer could imagine. All the jumps, rollers and rhythm sections were appropriately spaced with the double, triple, quad section providing most of the action during the A-finals.
Ryan Maifield set the tone early in the modified SCT class by taking the TQ in the first round by turning the only 17 lap run and fastest lap. Round 2 started off exactly the same way until a small mistake forced Maifield to drop the hammer. Ryan put the power down with this JConcepts Bar Codes, turning the fastest laps of the race and regained the lead on the final lap securing 2 TQ's and the overnight lead in qualifying. By round 3 Ryan was looking to lock-up the overall TQ position and again got off to a brilliant start pulling a large lead and cruising to another 17 lap run, his 2nd of the event taking the overall TQ with a perfect score. In round 4, teammate Brian Kinwald, put in a vintage Kinwald driving display to TQ the 4th and final round putting himself in 2nd on the grid. JConcepts would start 1st and 2nd for Sunday's triple A-main event.
Sunday morning came very early and temperatures were quite cool, the track condition was perfect thanks to the NorCal crew. Top qualifying driver, Maifield set the track on fire and took the early lead in A-1. Driving fast, smooth and error free Ryan increased his lead while the battle behind him shaped up with Jared Tebo eventually emerging for 2nd place and JConcepts / AE driver Brian Kinwald would battle his way into 3rd. A-2 provided a similar start with Maifield leading, Kinwald in 2nd place and Tebo pulling into 3rd. Maifield drove smart and smooth while Kinwald battled with Tebo for the 2nd position. Tebo made a quick move to get around Kinwald and chased down Maifield who remained out front and cruising. Tebo made a pass on Maifield, however, it was short lived as Maifield regained the lead on some nifty moves of his own shortly thereafter. Crossing the finish line Ryan Maifield took A-2 and the overall victory securing his 2nd consecutive ROAR National SCT title for JConcepts and Team Associated. Jared Tebo crossed for 2nd and Brian Kinwald for 3rd.
A-3 started with Brian Kinwald in the pole position. Brian led Jared Tebo around the track for many minutes until a crash gave Tebo the lead. Jared took a rather comfortable lead while Kinwald attempted to reel in the speedy driver from Missouri. Kinwald was unable to chase down the leader and the final finishing order of A-3 was Jared Tebo 1st, Brian Kinwald 2nd and Dustin Evans 3rd.
JConcepts A-main drivers in Modified SCT, Ryan Maifield (Hi-Flow), Brian Kinwald (JC Ford Raptor) and Aaron Biner's (Manta V2) vehicles were outfitted with JConcepts bodies all weekend. Their trucks were gripping the dirt with Bar Codes tires mounted on Hazard (Maifield, Kinwald) and Rulux (Biner) wheels. JConcepts racing tires have now won all 3 ROAR 2wd Short Course National Championships dating back to 2009.
Congratulations to all the winners, ROAR MT staff, Eric Vasutin, Kevin Jelich and the entire NorCal staff and crew.
JConcepts product used –
· Hi-Flow body
· Ford Raptor body
· Manta V2 body
· Bar Codes tires
· Profiled closed cell inserts
· Hazard wheels
· Rulux wheels
· Advanced Formulated Tire Glue
· 8/32" serrated wheel nuts
· 4mm serrated wheel nuts
· S.S. 84T Spur gear