JConcepts and Ryan Maifield Take 1/8th Truck at ROAR Fuel Off-Road Nationals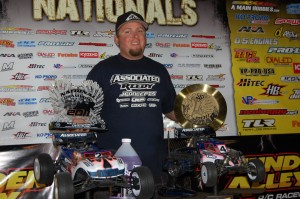 Event: 2011 ROAR Fuel Off-Road Nationals
Date: June 3-5, 2011
Location: Thunder Alley – Beaumont, California
JConcepts and Ryan Maifield take 1/8th Truck at ROAR Fuel Off-Road Nationals. Cross Hairs take a 2nd National title.
Thunder Alley in Beaumont, CA, provided the setting for the 2011 ROAR Fuel Off-Road Nationals. Rob Jackson and the crew hosted an amazing event in 2008 and the return trip for 2011 was even more incredible. Sitting up top high on the grassy area was a layout of team tents with a friendly atmosphere which made pitting arrangements rather comfy.

An entirely refurbished facility and Levi Jackson designed track kept racers on their toes all weekend with a challenging yet race-able layout.
With no actual straight-away, drivers were given a tough front-side triple jump followed by a rhythm based double-double section leading into a flat "on-road" section. From there, drivers picked up some throttle and made a difficult step-up jump in the back of the track which made for tricky racing and side-by-side action.
Negotiating the back section provided its own set of challenges with an on power single jump leading downhill off-chamber. The top left corner had a concrete corner with TA logos painted on it, racers hung tightly just before sending it back downhill and into a sweeping left hander. Drivers again picked up massive throttle heading into the big banked turn and then headed toward the start finish where a big roller broke the speed at the line just in front of the drivers stand.
The race management team was led by Jimmy Babcock and Nick Black who ran the show to perfection all week long without a delay. Racing started promptly very early Friday morning with a relative moist track condition.
It was business as usual for the speedy group of drivers with the likes of Ty Tessman and Jared Tebo getting early TQ runs in each truggy and buggy classes. Putting in great runs for JConcepts were Ryan Maifield, Steven Hartson, JR Mitch, Billy Fischer, Jeremy Kortz and more.
Qualifying ended with Jared Tebo taking TQ honors with a group of others hot on his heels. Ryan Maifield sat in the number 2 position in both Semi-Finals which meant a good position for the A-Final was in grasp.
Ryan Maifield, JR Mitch and Jeremy Kortz quickly gained A-Main positions during the Semi-Final and began the busy work leading into finals. During the break, a host of maintenance took place and tires needed to be mounted in a short time in preparation for the finals. The track crew watered every other race which made things somewhat loose in the beginning but it was important to setup for the long haul and know things were going to dry out and the grip would pick-up considerably.
The 1/8th truck A-Final started at roughly 3pm near the hottest point of the day. JConcepts drivers Ryan Maifield and JR Mitch were off and it was Maifield who sat right behind the leader creating a freight-train for the opening several minutes. Tebo led with Maifield slightly behind and Cavalieri 3rd. The 3 drivers stretched the gap on the field and pulled away, they formed their own race of 3.
Pit stops shuffled drivers around until it was apparent Maifield was putting on a charge and looked consistently quicker than the rest if the field. The track, now very dry, started to take it's toll on tires but Maifield and the JConcepts Cross Hairs remained strong. 30 minutes into the race it started to become the Maifield show with superior driving and durable equipment was a strong factor allowing Ryan to take a large lead. Maifield dropped the hammer at the end, turning his fastest lap of the race widening the gap.
Ryan Maifield crossed the finish line taking yet another ROAR national title for JConcepts and Team Associated. Ryan's RC8T-CE was equipped with JConcepts accessories all weekend including Punisher body, Illuzion HD black rear wing, Cross Hairs tires in yellow compound and Mono 3.7″ racing wheels. For the 3rd time in the last 4 years Ryan Maifield is the ROAR 1/8th truck national champion. Jared Tebo finished 2nd and Ryan Cavalieri 3rd.
Drivers celebrated after the 1/8th truck main for only a moment, the last race of the day was up, 1/8th buggy A-main. With drivers announced and pit guys scrambling it was down and quiet and the race was off. Jared Tebo jumped into the lead with Cavalieri running 2nd.
Ryan Maifield recovered after a flip in the first turn to move into 3rd creating a freight train of top 3 drivers once again. Tebo was out front and looking tough but Cavalieri and Maifield hung close. Both Ryan's pitted at 9 minutes allowing Jared an extra 2-laps on the track until his scheduled stop at 10 minutes which brought all drivers together once again. The top 3 drivers battled for position each sharing time leading the field.
At roughly the 30 minute point, Cavalieri and Tebo touched flipping Jared and causing a problem with the vehicle. Jared was sidelined and Maifield drove around the outside to the lead. The JConcepts Crossbows in blue compound started to come in and the lap-times started dropping. Around the 40 minute point a sudden ghost flameout forced Maifield to re-start in the pits and suffer a setback going down a lap.
Cavalieri stayed smooth and clean and maintained his lap-lead all the way to the finish line. Ryan Maifield took 2nd place and the phenom Dakota Phend finished in 3rd. Maifield, JR Mitch and Jeremy Kortz all chose JConcepts Crossbows in blue compound in the main event. The Punisher body and Illuzion HD black rear wing also proved effective for Ryan and JR.
Hats off to Rob Jackson and Thunder Alley raceway on one of the best tracks in the country. Also, a big congratulations to the ROAR management team, Jimmy Babcock and Nick Black on running a great event. Thanks to LiveRc, Neobuggy, Redrc and RCinsider on providing valuable coverage to an amazing event.