JConcepts – 15th Anniversary Skull T-shirt
JConcepts splashes fresh new apparel at the 2018 Dirt Nitro Challenge with a new 15th anniversary t-shirt. The newly designed skull logo pops with the iconic lightning bolt, noting the World Championship brand while celebrating the 15th anniversary of JConcepts. Behind, the distressed imagery arranged in a horizontal fashion helps bring together a look that is truly World Proven Innovation and Design.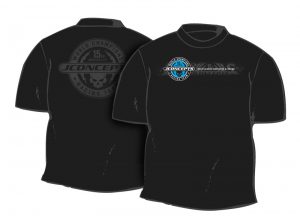 The back of the t-shirt has a large logo placement printed in a gray tone for the stealthiest look. The shirt itself is 100% cotton and packs a durable design along with the popular fabric material.
Features:
• Black, 100% cotton material
• Chill, blue and white colors
• Skull moniker with shield logo
• Horizontal distressed imagery
• JConcepts.net logo front and rear
• Available in adult sizes: M, L, XL, XXL & XXXL
JConcepts – 15th Anniversary Skull t-shirt – medium
Part # – 2677M
UPC Code – 845937019165
Retail price – $24.00
Map price – $20.40
JConcepts – 15th Anniversary Skull t-shirt – large
Part # – 2677L
UPC Code – 845937019172
Retail price – $24.00
Map price – $20.40
JConcepts – 15th Anniversary Skull t-shirt – X-large
Part # – 2677XL
UPC Code – 845937019189
Retail price – $26.00
Map price – $22.10
JConcepts – 15th Anniversary Skull t-shirt – XX-large
Part # – 2677XXL
UPC Code – 845937019196
Retail price – $27.00
Map price – $22.95
JConcepts – 15th Anniversary Skull t-shirt – XXX-large
Part # – 2677XXXL
UPC Code – 845937019202
Retail price – $27.00
Map price – $22.95