JBRL Electric Round 8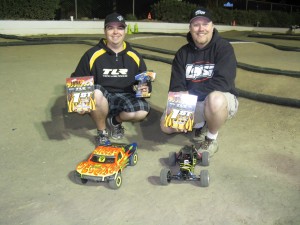 Race: JBRL Electric Round 8
Track: Hot Rod Hobbies
Dates: October 29th, 2011
Format: 2 IFMAR Rounds, Single 6 minute A-Mains
Losi's Frank Root, Doug "Casper" Nielsen, Ryan Dunford, and Keith Whisler attended the 2011 JBRL Finals this past Saturday at Hot Rod Hobbies. The track had fantastic traction, and a fast, flowing, and fun layout. The entry count was very strong at just under 200 and a great day of racing was had by all. With JBRL overall titles on the line in several classes, everyone brought their A-Game for the final round. As always, JConcepts Short Course Tires were the #1 choice.

Pro2 (Modified SC) – Frank's Losi XXX-SCT equipped with the TLR Tuned Kit was untouchable all day. Frank chose to run Bar Codes all around for the first qualifying, but opted for Orange fronts and Green rears due to the lower track temp for the morning run. Frank was on a strong TQ run when he was forced to retire from the heat. The 2nd round came up just after 1pm, and the track was warm and primed for a fast run. Frank would chose Orange BC front and rear, and the choice was correct. Frank took a strong TQ, by over 5 seconds; his 4th TQ in 6 rounds this year. The single 6-minute main would be run under the lights, and even though the ambient temperature dropped 20F, the track temp was still rather warm, so Frank decided to run the same tires from round 2. After a small bobble Frank dropped back to 4th, he quickly regained his composure and moved back into the lead. With optimum traction, Frank would then pull away taking the win by almost half a lap! This was also Frank's 4th win in 6 races, a great 2011 JBRL season for the XXX-SCT and JConcepts SC Tires!
Pro Buggy (NT Stock SC Buggy) – Doug "Casper" Nielsen, Ryan Dunford, and Keith Whisler put on the most entertaining racing of the weekend. The XXX-SCB demo class ran heads up starts for qualifying, and the battles were intense, with Keith Whisler taking the TQ. Keith, Ryan, and Doug were all running JConcepts Orange Bar Codes, so when the main started, it was an all-out war. During the early part of the main, everyone was taking their turn in the lead. Late in the race, Dunford and Casper had separated themselves from the pack and started to duke it out for the win. Dunford would make a bold last lap pass on Casper and narrowly take the win. Look out for this class to grow in the JBRL series next year!
Frank and Casper won using the following equipment:
JCO304404 JConcepts SC Bar Codes, Orange Compound
JCO304402 JConcepts SC Bar Codes, Green Compound