Indoor National Series – Race 1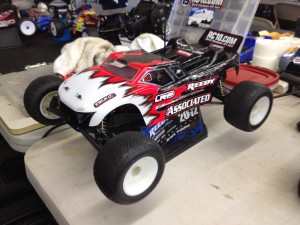 We are here at Smactrac raceway in St. Louis, MO for the first round of the 2012 Indoor National Series. Traveling together this weekend we have Brent Thielke, Steven Hartson, Tanner Denney, Nick Gibson and myself as we all get ready to kick off our Winter Indoor Nationals.
We had 190 entries for just the club race Friday night which featured Steven Hartson running a great run in 2wd modified and 4×4 Short Course. Everyone packed it up a little early to get some rest to prepare for qualifying on Saturday. The tires of choice here at Smac Trac appears to be V1 Bar Codes in 2wd and 4wd and Pressure Points on Short Course. The track is very wet and tacky and lap times are in the 17 second range for the faster drivers.