Illuzion – Rustler XL-5 Ford Raptor SVT body
Illuzion – Rustler XL-5 – Ford Raptor SVT body
Part # – 0210
UPC Code – 845937004680
Retail price – $30.00
(Fits Traxxas Rustler XL-5 and all Rustler models )


Get ready, JConcepts has reached new ground with the Ford Raptor SVT Rustler body. Officially licensed by Ford, the JConcepts Ford Raptor SVT body, specifically for the Traxxas electric Rustler, is inspired from the ground up as a scale platform to turn the Rustler into an off-road racing looking street-wise machine. The Raptor SVT – F-150 body by JConcepts begins with the latest in 1:1 truck detail by incorporating the latest treatment in grill and headlight design with pronounced bumper, adding street appeal. Front and rear fender flares provide the clearance necessary to run an assortment of tires and wheels while maintaining that exclusive design. Crew cab design with recessed side windows, louvers along the front hood and sun-roof outline highlight a number of the front-end styling cues. Roll-bar inspired rear bed area with incredible detail which includes an optional rear spoiler to finish off this extraordinary, tough design.
Features:
Officially licensed by Ford to JConcepts
Scale inspired body, cab and window design
1:1 headlight and grill treatment with pronounced front bumper
Front and rear fender flares for maximum realism
Crew cab with recessed windows
Optional rear spoiler with mounting hardware
Clear heavy-duty polycarbonate with protective film
Window masks and detailed Ford Raptor SVT decal sheet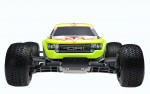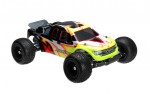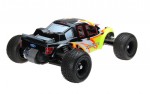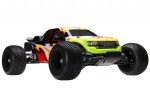 Ford Oval and nameplates are registered trademarks owned and licensed by Ford Motor Company. Manufactured by JConcepts, Inc. www.ford.com
Revo®, JATO

, T-MAXX

, SLASH®, SLASH 4X4® etc. are trademarks and registered trademarks of Traxxas L.P.
All bodies are sold clear and are shown painted for advertising purposes only. Tires, wheels and bodies are sold separately, unless otherwise specified. JConcepts reserves the right to update or make changes to product, packaging or contents.