IFMAR Worlds Day 7 – Qualifying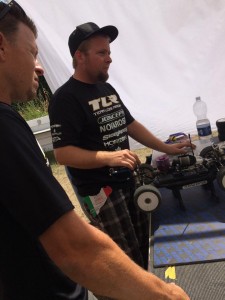 So what did you think about that 4th round of qualifying? So here's the question.. Are you more concerned about Jared Tebo escaping tech with the body holes or the track being rained on?
I get asked all the time….what tires should I run? This can be via text, email, FB message or just a straight up post to my wall. I always respond with; send me a photo of your track. A photo is worth 1000 words, so they say? Because, you see, the track really matters. This is something that you need to learn early in R/C.
It probably took me 3-4 club races when I started racing in October of 1990 to figure this out. Only back then you wanted a watered track because it gave the most grip. I was running Trinity tires on my JRX-T and I had 3 different tread patterns. Small, medium and medium large pins. If the track was wet I ran larger pins and if it was dry I would run smaller pins. I knew that when I was running the smaller pins on the dry track it was going to be loose anyways and be slow. However, as long as everyone else was slow I was ok with it.

As I got better and started racing 2wd I had more tire options and started paying even more attention to the conditions. Back then, watering the track was by volunteer and you could basically do it whenever you wanted. One of the fast 2wd buggy guys at our club track GOAR, Mike Spein would "volunteer" to water the track just before his qualifier and lay down a nice coat of water just before his race. He would already have the 11×2 motor with 7 cells of power ready to go and….boom. Mike was clearing jumps, full throttle, throwing red dirt roosts on his way to a potential TQ. Mike knew how to setup, prepare and cater the track conditions to his setup. We were concerned in those days that Mike had a track advantage during a 90's club meeting at the Greater Orlando Auto Racers track.
Fast forward about 5 years and we were racing the Winter Championships where previously we hoped to be in a qualifier in the morning on a fresh / damp track for the best shot at a TQ run. Something strange happened, the track crew decided they could no longer keep up with watering the track and they let it go dry. It wasn't 20 minutes later and the track started looking funny…. It had this groove that started to form and we started seeing fast qualifiers coming out of guys that…..well, ah, normally, ah….ok, they aren't fast and they were beating our previous runs. Then we noticed, holy crap, the next heat is even faster, then faster again. Pretty soon you run to the heat sheet and look who's up in the last heats of 2wd modified. Ok, these guys have the best heat now and they are almost the last ones up to race. If you were lucky you had a late heat and the potential to lay it down on the fast track.
What could the guys do who were in the first heat of 2wd modified? All they could do is watch their times get beaten by a lap or more. Yes, a lap! First heat drivers would be throwing things in the pits, this is BS, I hate this track, what a joke, I'm going home, my grandma could TQ in the last heat…ugh whatever… The next year they would still have 400+ entries.
Fast forward to where we are at now. World Championships. Over time we have decided that it's more fair to run the track dry and it's more consistent heat to heat and allows all drivers to compete on a somewhat even playing field. We have gone so far as to add sugar and concrete to what previously used to be dirt surfaces just to up the level of consistency. It works, the sugar, the concrete and everything else we have done actually gives the best conditions for these types of events when you want the most fair shot at a TQ no matter what race you are in.
As far back as 1997, at the Worlds at the Ranch Pit Shop, they were using concrete to patch the track. I saw a hole forming at the end of the straight and Gil Losi Jr (I miss him at the races BTW) started making it larger and squaring up the hole. I say to him, hey what are you doing… He says I'm going to make some clean edges and fill the hole with concrete. My mind is blown….I'm thinking…it's a dirt track just fill it with dirt. Jr says, concrete is the only thing that is close to what we actually are racing on after we have grooved up the track. I was skeptical until my qualifier and I was like holy crap, this freakin works. The hole was gone and we were hauling ass again… Jr and his concrete saved the day.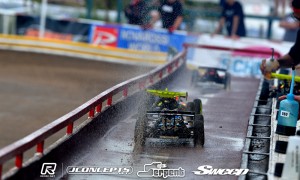 Today started just as any other qualifying round would with the track being in great condition. Fast times coming down as the heats get faster everything was on track for another showdown in heats 1-5 where the fast guys are. I see the cloud coverage was moving in and I go to Ryan's pit and he's already looking for different compounds. I think great, this guy doesn't need any help he's already on it. Heat 1 hits the track and Cavalieri, Martin Bayer and David Ronnefalk are running well. 16 lap pace going down in the 10:12 range. The race is on track and things are going ok. Then I feel a rain drop and I'm like oh, crap. I see the cars start sliding on the tile and I'm like these guys are screwed. I run back to the pits and talk with Ryan and then I run to the rental and pick out a set of used but softer tires for Ryan. I didn't have the tire I wanted but this would have to do. Have to make the changes and decisions on the fly and things were happening quickly. I'm thinking F this crap we are going to TQ this round anyways when I find the right tire. Heat 1 gets 16 laps but not the greatest after the last minute got some water. Heat 2 hits the track and Tebo was running well but I couldn't see his lap times until Maifield was sorted for heat 3. I run to see his best lap of 40 seconds. What the hell? A 40 out of Tebo as hot lap? Ugh….I watch for a minute and they have low grip on the tile sections and pretty much everywhere. I go back to the warmup area and Maifield is asking if he should even run considering the track is so bad and he says, with a clean run I'm lucky to be in the top 60 with the way things are going. Kevin and I convince Ryan to run anyways thinking ahead of potential problems of not running the qualifier.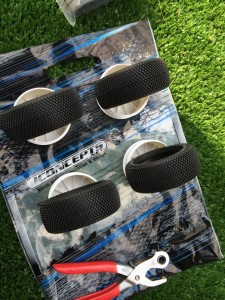 Ty and dad prepped his car well with new front and rear clips (thinner diff fluid and standard settings) to the chassis and some Holeshots. You know what they were thinking? Blank this crap we are going to TQ this round anyways and show everyone who the man is. Heat 3 starts and Ty, Maifield and Wernimont all ran 39 second laps… I'm thinking, if it keeps drying (it wasn't presently raining) and the race goes long enough these guys might have a shot at it. I videoed a few laps with Ryan and added to FB quickly. He was doing well with a so/so car and last second move on tires. Then more rain fell and all of a sudden the laps slooowed down… 41's and 42's….ugh. It was slow now and no shot at a decent run. Maifield finished off the qualifier with 15 laps 10:33 with no crashes and a great fuel stop. Impressive run for Ty, Wernimont and Maifield but a lap off TQ. Yes…..a lap short of TQ.
You know what Maifield said afterward? What a waste of time…I'm going to be 80th. We follow back to the pits after marshaling and everyone is still fired up about getting screwed on track conditions. Maifield's rant goes something like Ive heard before. This is BS, I hate this track, what a joke, I'm going home, my grandma could TQ in that first heat…ugh whatever… I made that up but you get the idea…
See, no matter what you try and do there is nothing you can do about the single largest factor which is the track conditions. No matter how much of a bad azz you are, you can't control the surface, weather and conditions or the organization running the event. If you are running when the track sucks it's not always your car, tires, driving, mental approach or good luck charm….is the track fast or not?
When it's fast we say, keep your arms and legs inside the cab at all times…you are entering the rocket race. Sometimes there is no magical tire, no magical setup….you need to be able to read the track and know to have the appropriate equipment on during that time and let the chips fall where they may.
I just wish Mike Spein was here to water the track.