IFMAR Worlds Day 4 – Sunday Practice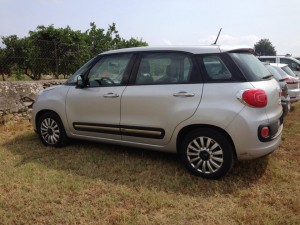 Of course I'm an excellent driver. That's the quote I keep replaying in my head while I'm driving around Italy with our little Fiat. I've turned totally local, I'm not waiting on anybody and you better not try and moped by me because I might just decide to turn. In the beginning I was getting the stare down from other drivers and now I'm doing the staring. I've almost rubbed mirrors with a van. I pulled out in front of a motorcycle. Walking people don't faze me anymore. Watch out for my Fiat bro!

Practice here today was a success for our massive team here in Messina. Arial photographs will be available tomorrow just after official practice. Ryan Maifield stepped up his game today and he's starting to really feel this Naxos track. After some early struggles with brakes and a bad traffic heat he was into form today and led the TLR team and ran an 8th in round 1, 4th in round 2 and 2nd in round 3. Of course we are still takin bout practice and it doesn't really mean anything. Or does it? Where would you rather be? On top or on the bottom?

I'll tell you what, it's not easy being at the top either. Ty Tessman has been posing for more photos than Kate Upton with all this practice success. Each round the photographers have to find a new pose to go with. #fastguyproblems
David Ronnefalk wasn't as on-point as he was yesterday but still good enough for 2nd. Rough day huh? He has great support in the pits and they look very professional trying to get their guy to the top. It's amazing, this must be important or something…
The current WC Robert Batlle has his program in check as well. Each run he really shakes down that back chicane and angle double on the back stretch. His car has great corner speed and make no mistake about it. This guy wants to repeat. He sits 3rd after today's championship open practice day.
We circle back to Maifield (cough, cough – JConcepts) who finished the day in 4th and is building in speed and confidence. The driver once known as too punched or too fast or wreck-less has a new style. It's called I drive however I need to in order to be successful. Oh, this week it's short course, brap and oh crap I need to hold on to her.. Oh, this week it's 2wd, smooth brap… This week it's 4wd buggy… Fast forward brap… Back to 1/8th buggy, it's concrete, I can only drive so hard….brap, brap.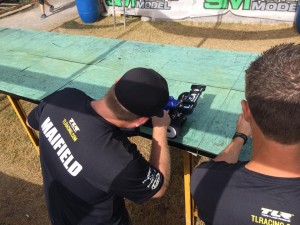 Seriously though, this guy has a magic finger for throttle and gifted hands for steering. Watching him run the correct lines and driving the turns like a touring car today was impressive. He's a long ways from where he wants to go this trip but he's come a long way over the years to remain one of the best overall drivers in the world. #maifieldsoldier
The track conditions itself are staying very consistent. The only real hole is just before the blue table top and a high speed bump coming on the straight. There is a delamination of the concrete just after the double after the straight but it seems its no issue. It's been a success so far and let's hope it remains. Please, no one put in a concrete track back home because I said it's been good.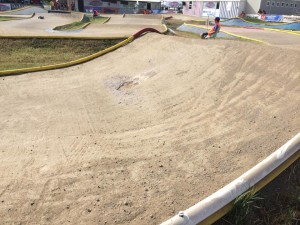 We had some PA meltdowns today with some tremendous screeching sounds coming from the speakers for about 2-3 runs. I think Martin Bayer jumped clean off the track once because of the noise. I was just watching and couldn't take it. Next time I'll ram the drivers stand with the Fiat. Jim Carey has a new most annoying sound ever after today.
I started seeing some frustration from the drivers today who were either chasing the clock or trying to put in that practice run that saved the world. A little yelling coming from the stand and pits today. I like it! I love when it's passionate and it's serious. I found myself yelling at a Kyosho car today who was jamming up Maifield in one of the heats. It's goes something like this….hey green Kyosho, how bout some space….!?!?! No disrespect to that driver but it gets passionate out there when cheering for your guy.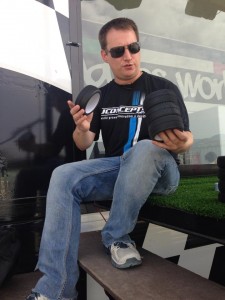 Did I mention it's still practice? The JConcepts products have been working well and I enjoyed the day catching up and helping where needed. John McGinty put down his best run of practice so far and it's exciting seeing the young guys have success. Thanks to RedRC for the great video of the new products and the coverage throughout the week. Check out the JC Facebook page for company news happening by the hour and blog.jconcepts.net for daily updates from around the world.
Till next time, the excellent driver – Jason