IFMAR Worlds – Day 3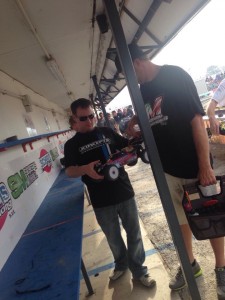 Day 3 is over and done with and overall it was a good day. 2 runs of 5 minute runs and then the last was 12 minutes. Saw some ups and downs but the track remained very consistent which is a good sign. So far I think I see only 1 hole forming and the rest remains smooth. The temperatures were quite warm today but it didn't seem to affect the drivers or cars. The fastest laps of the event thus-far were turned today so the drivers are really starting to get sharp after just a few runs.

Allison and I are starting to get adjusted to the time schedule and to the driving and local restaurants. I'm a picky eater and I've had nothing but great success so far. Our little Fiat car is getting to be fun to whip around in traffic and basically drive like a jerk like the locals. Just do whatever seems to be the common theme on driving.
Picked up the phone and skype with the Radio Impound Podcast yesterday and brought the gang up to speed on the first couple days of the trip. Fun times with Gotti as we discussed the latest here in Messina. Have you liked the RIP page on Facebook?
Cedric Devillers called me out about my first blog entry about my favorite worlds events. He mentioned I forgot 2003 in Minreg and Clearwater, FL where we debuted JConcepts and had the first body and the BJ4 vehicle. He's right, I really need to remember that event for the products and my driving. I have a great photos of the original products from that event and qualified 5th in the 2wd A-main. Thanks Ced!
I took a lot of time watching drivers today and there are some guys that are beginning to separate themselves from the pack. Guys are all over the place on tires and can't seem to settle on a favorite. You have some guys running Bar type 1/10th tires and then you have guys running the big honking large pin specials. At one time or another they all look pretty good and depending on the driver everyone seems to have a favorite. Ryan has tried 2 of our new tires and he seems to have a favorite but he's more concerned about getting his driving marks down and working on vehicle settings. A lot of drivers complaining about loss of braking power on the track and Ryan took a few runs to get that part dialed in on his new ride. By the end of the day he was running in the 37 second lap range and looked pretty good. He finished with a 3 lap consecutive average of 11th. 1 minute and 43 seconds is tops by David Ronnefalk and Ryan was 1 minute and 44 seconds. I feel he hasn't reached his potential yet and will be doing low 37's when the total package is right. With 3 more days of practice to go the fast guys may change daily.
John McGinty is also impressing a lot of drivers by picking up the track pretty quickly. He's doing well and turned his first 38 second lap today which is good considering his lack of international experience. Johns been our most experimental driver trying 4 different types of tires so far. Each he's had some success with so he's probably a couple days away from finding his favorite. Dad is hammering out the car setup in the pits and the Mugen team seems to be sharing some setups that are working well.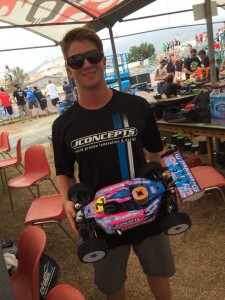 The new Associated prototype car has looked good in the hands of Neil Cragg, Ryan Cavalieri and Yannick Aigoin today. They aren't in the top positions after the 3 lap average but very close. They aren't allowing body off photos of the car but both Kody Numedahl and Brent Thielke have walked me around the car showing me the details. Judging by talking to the group, this might finally be the AE car all the fans can be proud of.
The TLR team is also experimenting with some chassis components but not revealing too much at this point. Adam Drake looked especially good today along with Ryan. Dakotah has a good 3 lap time but it seems he still needs a little speed to be in the top 3.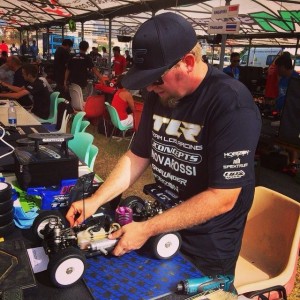 The Kyosho car looks pretty much as usual and with David Ronnefalk, Jerome Aigion and Jared Tebo in the field they are looking pretty sharp on their car setup. David looks so confident after his euros win he might be the guy to beat here this weekend.
Tire wear hasn't changed much although everyone is pretty much on new tires each time, there is some tread after 12 minutes on each brand so most have an open option for at least 12 minutes. After 12 – 15 is where things get more intersting. Our usage has been great, we will reload the bags in the morning and try a few new options and perhaps get one step harder tire on the track to test the speed. The gray Dirt-Tech inserts are performing and holding up well to the conditions so we are pleased with the new inserts here.
Well, it's 11:53pm and time for me to get ready for another long day tomorrow. Best of luck to everyone racing tomorrow and check back with JConcepts for the updates with the team direct here in Italy.