IFMAR Worlds Day 1 – Travel
Coming to you somewhere above the ocean, Allison and I head off to the IFMAR Worlds which will take place in Messina, Italy. The British Airlines jet is cruising along on this night flight with very little air conditioning and low amounts of ice in the beverages. Our first leg of the flight takes us to London where we will meet up with the Team Associated guys as we continue on to our final destination. International travel isn't the most fun and usually leaves you feeling like you need a restart on your day. Shower, tooth brush, food, Starbucks? Those would all be nice about right now and we probably are only half-way through our travel day.

I've managed to watch about a quarter of Captain America which I lost interest in about the time he started blasting through walls with his magical shield. I got to thinking, I wonder if my M12 radio is magical?
The question is, who has the magical radio this weekend? In what seems to be one of the longer events schedule-wise we have ever attended, this race seems to be dedicated to the die-hard. This isn't a sprint, it's a marathon of practice days that lead up to opening ceremonies and then eventually qualifying. It's going to take some mental strength to stay the course during this event and to stay focused because I'm guessing there will be a lot of guys ready to fall-out just after practice. With the track looking to be constructed with multiple surfaces, one of the main ingredients being concrete, or a stucco surface finish it's going to wear some product. I'm going to pace myself and attempt to convince our small team of drivers to do the same. Ideally, I think you want to sleepwalk through a couple days of practice until the track starts to stabilize a little. Rarely do they ever completely rebuild a track so deterioration should be a big factor over many days. Get off to a decent start, get your engine, car and driving to feel right and finish your 10 minute qualifiers with confidence and run your best late, not early. Sounds easy, right? It's not. You rarely see these 1/8th worlds going to the driver with the fastest outright speed but to the guy that has a great package and peaks at the right time. Atsushi Hara has been the best at this during the past 3 worlds and he has a 1st, 2nd and 3rd to show for it. Maintain your cool, don't give up and get faster as the race goes on. That's the path to success and these are the guys to follow during these events.
It will be easy to be led into following the guy that has the fastest single lap during the first few days. The scoop from RedRC or Neobuggy on the fastest lap during each round of controlled practice will be the buzz. It's Dakotah, no it's Ronnefaulk, now it's Tessman, oh, no wait, it's Maifield. Those guys will be in the hunt for sure but watch out for the guy that wants to be there, isn't backing down and is averaging the quickest laps when the track is the worst. That's the guy!
For the guys that are new, it's natural to be excited about going. It's a great experience that gives you street cred back home with the boys. Showing off that new worlds shirt, matching paint job or new product or tire will surely be blowing up Facebook later this week. We need these guys too but more than likely it's not their time yet. I love the enthusiasm though.
Let's talk about our JConcepts team that is here for a moment. We just went from the ROAR nationals where we probably had one of the largest teams to an event with probably the smallest team. Our confirmed drivers are Ryan Maifield and John McGinty Jr. That's it.
Now, we have plenty of drivers back home that aren't attending which is unfortunate because they are more than capable. JR Mitch, Dustin Evans, Steven Hartson, Tanner Denney just to name a few. Those guys seem to be the result of worlds budget cuts or their teams wanting them to concentrate more on electric than nitro. Unfortunately that takes some bullets out of our gun here in Italy. We lost Barry Pettit and Jorn Neumann since the last worlds in 2012 and they will be missed this time around. I consider those drivers to be JConcepts drivers who were persuaded by their kit manufacturer to make a change due to industry partnerships or relationships. Unfortunate to say the least.
I'm looking forward to the day when we can get some of our young guys out to the 1/8th worlds like Daimon Borkowicz, Spencer Rivkin, Tyler Jones, Nick Gibson to go along with our established and current guys I already love working with.
Italy has been good to us in the past. It's where we gained so much success so early in 2005 when Ryan Cavalieri won the worlds with our BJ4 Worlds Edition and Maifield was the TQ. That group of then 18 year olds was something else and they continue to get it done to this day. The best of the best.
Is this Maifield's year? So many want Ryan to get over the worlds hump and win that title. He's won everything else. So close, so many times has everyone believing it's his time. Will the new chassis with TLR and engine package of NovaRossi be enough to get him over the top or is it truly Dakotah, Ty and Ronnefalks world now? The last 3 1/8th worlds Ryan has been in the lead or very close at one point or another. Will the track suit Ryan? Are his products up to the task? Can he make it through the semi and eventually the final? That's what makes it so tough. Personally, I want to see him run a complete semi and make the final and then let it all hang out in the main. Ryan's at his best when he does what is natural to him. Attack, drive with a little chip on his shoulder and have something to prove. My theme of the race will be, do it your way. Or as RIPs Gotti Jr says, #maifieldsoldier
I'm excited to show our 1/8th supporters our new product we have here in Italy. We have slowly overhauled our 1/8th product line and there should be options we have never had before. This year we have already taken a huge step with inserts with the release of the Dirt-Tech and now we should have new tread to make that combo more lethal. Who doesn't like new and fresh product? Photos / video… coming soon?
I happened to bump into my collection of worlds credentials just before the trip here and each one takes it back to a ton of memories. My favorite trip still has to be the 2011 Worlds to Finland. The track, the surroundings, the people, the 2wd and 4wd racing was all just spectacular.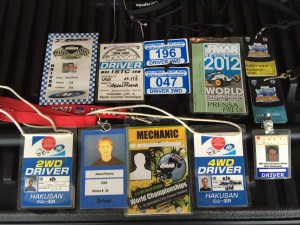 My first worlds experience in 1995 at Yatabe arena was amazing. It was a great bonding trip with people that I'm still friends with today. My mom made the trip with me and she was so supportive of my racing and really helped more than she knows. I practiced so hard for that race with Mark Pavidis before hand that I felt I was Amain ready. As it so happened Mark and I were in the same qualifier and he got 1 clean run and I had zero. It's my true disappointment because our qualifier was so rough with traffic. If they seeded qualifiers back then Mark and I would have been in the A-qualifier and perhaps a different result? I qualified 12th in 4wd with only 1 run where my car had enough battery life to make it 5 minutes at speed. I pleaded with Mike Reedy for a great battery pack for the last round of qualifying and almost pulled it off.
The more I look back at the 2010 Thailand worlds the more I feel it was the pentacle of 1/8th racing. Such a unique track with a stadium feel along with the oil impregnated surface was just great racing. The highs were very high and the lows were very low. Still good memories.
The 2000 worlds at Yatabe Arena for touring car was a crazy experience. I was racing for Team Losi and had helped draw the XXX touring car with Gil Losi Jr. I had one great run in practice but the rest felt so below my potential. I ended up breaking in the D-main and watching the A-finals with Jimmy Jacobson. We yelled so loud for Mark Pavidis I think Masami could hear us.
The track in 2005 was really bad. Just not very prepped or worlds ready in my opinion but the Cavalieri and Maifield battles in 4wd with the BJ4 were so amazing. Neil Cragg looking special on that final day in 2wd along with Cavalieri making that one mistake that led to the 2wd Cragg championship.
What I remember most about the 2007 worlds was a 45 minute drive each day up and down the mountain in the racer van. Almost our whole team van was sick and Robert Itoh giving us the heads up about this option from the local convenient store to try and rid the cold. The strangely shaped track, white dirt, Maifield making it look so easy in A1 of 2wd and then getting a heart breaking crash through a crazy section of bumps in A3. Tebo dominates 4wd with the new B44 designed by myself, AE and Brad Reelfs. I wish I had my videos from the local Karaoke bar where we all piled into at the end of each day,
The drivers stand and facility in 2013 hosted by Amain was special. The racing in 2wd mains were not as exciting as they should have been. Weather caused problems with a loss of a round of qualifying and then a rush into 2wd A1. 4wd finals made up for the weather. What an amazing run by Steven Hartson in A3 to take the final. Very special win while I stood next to Jurgen from LRP.
Now we wait on 2014. Stay tuned for updates via the JConcepts blog, Facebook and Instagram.