Hot Rod Shootout – JConcepts Dominates Qualifying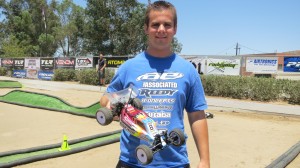 The 2012 HotRod Shootout has been two days of intense qualifying. With Qual points being used, it is important to keep consistent runs throughout the four rounds of heats. JConcepts has had a very successful weekend, with many top runs and several drivers at the front of the field. JConcepts have been the class of the field in the SCT classes, with Jörn Neumann sitting at the front of the class in Pro4. Ryan Maifield has P1 in Pro2, followed by Dustin Evans, Frank Root, Tanner Denney, Billy Fischer and Eric Albano, giving JC six of the ten in the A main.

In the 2wd Mod class, with TQ runs from Ryan Maifield, Steven Hartson and Tebo, round four would be the deciding factor for sitting on the pole for the A main. With a brilliant drive by Hartson, using Barcodes in Orange compound, laying down a strong run in the shadows of the setting sun to claim the top spot. Maifield will be in the number two spot. Guaranteed to be an epic battle, with Dustin Evans also within striking distance, right in front of Frank Root.
Modified Truck has Dustin Evans in the TQ spot with Steven Hartson sitting 3rd. Mains begin at 9am PST this morning and can be watched live all day on LiveRC.com
More to come from the toasty west side of the country, in downtown Saugus, CA.