GHR Truck Race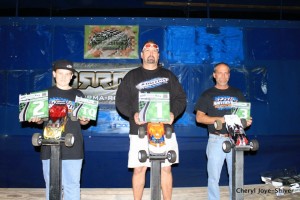 Tracy Carver and John Bernard Jr. win with JConcepts at the 1st Annual GHR Truck Race hosted by Go Hard Raceway in Green Cove Springs, FL.
Racers from all over the southeast travelled to Go Hard Raceway in Green Cove Springs for the first annual GHR Truck race. 83 entries raced for the hardware in Novice, Stock SC, Mod SC, 4×4 SC, and Stock Stadium Truck in this one day event.
A fresh layout had been put down for this event and with cool weather all week meant the track was slick and tire choice was going to be key. With round one in the books the track crew went to work to bring out the traction. Round two saw lap times drop across the board and when the dust settled Lance McDonald – Novice, Patrick Rossiter – Stock SC, Peyton McDonald – Stock Stadium Truck, and John Bernard Jr. Mod SC & 4×4 SC had earned the TQ positions.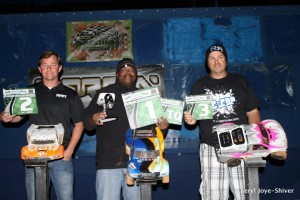 As the mains started the battles on the track were intense. Allen Kosier took the Novice win as he and Lance McDonald went back and forth the entire race and kept it interesting for all. Team driver Tracy Carver jumped to an early lead in Stock Stadium truck from his number 2 position and never looked back taking the win with his JConcepts equipped T4.1. Up next the heavily contended Stock SC saw TQ Patrick Rossiter lead start to finish. Mod SC saw the same tight battle between TQ John Bernard Jr. and Ricky Layman that it saw all day. John Bernard Jr. took advantage of his TQ position and took the win with his JConcepts equipped SC10. The largest class of the day with 31 racers, 4×4 SC, was the last A-Main of the event. Team driver John Bernard Jr. TQ'd this class and was looking to repeat. John kept the lead in this super-fast class from start to finish with his JConcepts equipped SCT410.
JConcepts winning products:
2162 – T4.1 Monroe Carbon Fiber Battery Brace
2158 – B4.1 Aluminum Steering Bell-cranks – blue
2170 – T4.1 Front Axle for 12mm Conversion
2081 – 12mm Rear Hex Adapter for SC10
2098 – 48 pitch, 81T SS Machined Spur Gear
2164 – SC10 Rear Body Mount Brace
3043-02 – Double Dees (Green Compound)
3061-01 – 3Ds (Blue Compound)
3006-02 – Double Dees (Green Compound)
3354W – Mono – T4.1 – 12mm Hex Wheel (White)
3317B – Rulux – SC10 Front Wheel (Black)
3318B – Rulux – SC10 Rear Wheel (Black)
3352W – Hazard – Losi Ten SCT-E Wheel (White)
Additional photos can be found HERE
Thanks to Cheryl Joye-Shiver for the photos