German National Championships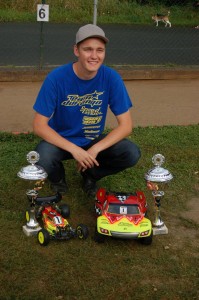 Jörn Neumann takes two more German National Championships with JConcepts.
Last weekend the German Nationals 4WD and Pro4 Short Course were held in Dortmund. JConcepts team driver Jörn Neumann raced in both classes. The track was clay with astroturf over the jumps and well prepared from the club. On Saturday, 3 rounds of controlled practice and 3 rounds of qualifying for every driver. Jörn tried a few different set-ups on his cars and noted that his cars worked great from the beginning.

Unfortunately the weather forecast for Sunday was really bad, and it rained a lot, just small breaks without rainshowers. Round 4 of qualifying started with Short Course. After that 7 minute drive Jörn's Short Course was about 500g heavier. The organizers decided to cancel qualifying round 5 and go straight to the finals. The finals got underway under extremly wet/muddy conditions. Jörn had good runs and was able to win A1 and A2 in both classes. Giving him 2 more National Championships.
JConcepts Products Used:
Double Dees green rear
Double Dees green 4WD front
JConcepts Finnisher body DEX410
Illuzion – 6.5″ Hi-Clearance wing DEX410
Hi-Flow Short Course body