Garrison Wins Missouri State RC Pro Series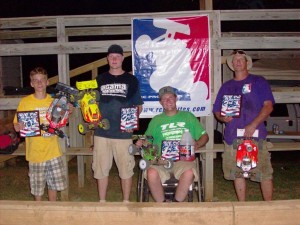 Mike Garrison wins Missouri State Championship Round 2
Event: Missouri State RC Pro Series Rd.2
Date: July 6-7
Track: Novelty R/C Raceway
Round #2 of the Missouri State RC Pro Series Championship made it's way to Novelty, MO this past weekend. Conditions were extremely hot with temperatures reaching as high as 105 degrees outside. The Novelty R/C crew did a fantastic job keeping the track in good shape and keeping the racers watered down throughout the weekend. TLR/Horizon Hobby team driver, Mike Garrison, attended the race with his 8ight 2.0 equipped with JConcepts Soft Hitmen tires, Byron's Gen2 fuel, Venom LiPo receiver battery, and Spektrum radio gear. Qualifying was a four way battle between Team Associated's Nick Gibson and Mitchell Gardner, Agama's Chris Marrant, and TLR's Mike Garrison. Although taking TQ in Round 2, a DNF in Round 1 and a 3rd in Round 3 would put Garrison starting 4th on the grid.

As the tone sounded it was Mitchell Gardner leading, Gibson dropping into second, and Garrison moving up to third. The three drivers began to stretch out their lead on the field. As the three were seperated by only 3 seconds, AE's Nick Gibson would have car troubles dropping him out of the race. Now it was up to Gardner and Garrison. As they approached the first pit stops, Gardner came in for fuel as Garrison went on by taking over the lead. The pitstop would unfortunately be Gardner's only pitstop as he too DNFed with mechanical troubles. This left TLR's, Mike Garrison, to lead the field for the remainder of the a-main. In the end Garrison would take the win with Chris Marrant finishing second and Mark Dunn finishing in third.
The Novelty R/C crew and State Pro Series director, Rex Franke, did a fantastic job putting on the event. Round 3 heads to St. Louis, Missouri at Dirtburner's on August 3-4.
A special thanks from Mike goes out to TLR/Horizon Hobby, JConcepts, Byron Fuels, Venom, StickIt1Racing, LiveRC, and his pit guy/dad Greg "Homer" Garrison.